We are proud to highlight the work that our stakeholders undertake to make progress towards achieving Vermont's clean transportation energy future by reducing petroleum usage in equitable and just ways.
Every month, we highlight one of our stakeholder's efforts. Let us know if you'd like to be included in an upcoming Stakeholder Spotlight!
Contact Us
September 2023
Learning From Leif Maynard, a Young Climate Policy Implementation Fellow at the U.S. Department of Energy
Written by Hanna Hartman, Program Outreach Intern
Leif Maynard is a friend of mine from our time at Amherst Regional High School in Massachusetts. When I saw that he was as an ORISE Fellow at the U.S. Department of Energy, I reached out to learn more about his personal journey in the environment, equity, and public policy to help ensure a just energy transition to reduce and avoid the worst impacts of the climate crisis. Through Leif, I learned that the Energy Efficiency and Conservation Block Grant (EECBG) Program can help Vermont communities move towards decarbonization in a way that centers place-based strategies and climate justice. The EECBG Formula Grant Program is offering $430 Million in funding for eligible state, local, and Tribal governments. Vermont's state government has $1,594,420 available through the grant and an additional sum of $1,520,120 has been allocated to ten eligible local governments.
For Leif, the issues of equity and environmental action have been "very intertwined" throughout his path to working on federal climate policy implementation. After graduating from Bowdoin College this past spring Magna cum Laude, Leif secured a position as an ORISE Communications and Stakeholder Engagement Fellow in the Office of State and Community Energy Programs (SCEP) within the U.S. Department of Energy. We spoke during his fourth week on the job, where he is working on the EECBG Program team.
At Bowdoin, Leif double majored in Environmental Studies and Government & Legal Studies, with a minor in Hispanic Studies. Leif has always been "professionally, personally, and politically interested in climate change and environmental action." During his time as an undergraduate, he investigated "how questions of power fit within an environmental frame." Much of his previous research, internships, and work has related to "what a just energy transition can mean in rural New England."
Leif is hoping to support a transition to renewable energy throughout the country as "someone who grew up in rural Western Massachusetts and feels deeply committed to supporting the ecological livelihoods of rural places that are increasingly facing challenges from the climate crisis and risk being lost." He accepted the yearlong fellowship, sponsored by the Oak Ridge Institute of Science and Education, to understand how federal policymaking works. Policymaking is important to understanding the flow of money from federal programs to smaller entities, and to learn how local partners can become more empowered to serve their communities through engagement with the federal government.
The Energy Efficiency and Conservation Block Grant program is currently funded by the Infrastructure Investment and Jobs Act of 2021 (commonly known as the Bi-Partisan Infrastructure Law) and "offers resources to local governments, states, tribes, and territories to lower energy costs, reduce carbon emissions, improve energy efficiency, and reduce overall energy use." Leif underscored the urgent importance of reducing emissions across the country to meet local and national climate goals and avoid the worst impacts of climate change. Funding from the EECBG program could be used to:
Retain consulting services to create a climate action plan,
Electrify municipal fleets and install EV charging stations,
Establish an energy retrofit program for low-income communities,
Install solar and battery storage on a government building,
Build out safe biking infrastructure.
Find complete guidance on the many eligible uses for EECBG Program funds here.
Leif explained that the grant focuses on place-based clean energy strategies and hopes that it will support local governments "to launch creative climate change mitigation projects that makes sense for their communities."
Additionally, SCEP is accepting applications for a new technical assistance program, the Community Energy Fellowship. The program will place 25-35 recent college graduates and young professionals to support eligible local governments and Tribes with their EECBG Program projects. These Fellows will bring new expertise and perspectives to local communities and accelerate the transition to resilient and affordable clean energy.
Leif thinks "this program will help local governments respond to this crucial moment" for decarbonization and "implement these projects in a creative way with a fresh set of eyes and more support on the ground." The fellowship will bolster the clean energy workforce and hopefully employ people with a connection to the communities hosting Fellows.
In Vermont, there are twenty local governments eligible for EECBG Formula Program funding: Bennington, Brattleboro, Burlington, Colchester, Essex, Hartford, Milton, Rutland, South Burlington, and Williston, as well as Addison, Caledonia, Chittenden, Franklin, Orange, Orleans, Rutland, Washington, Windham, and Windsor counties. Leif explained that of these municipalities, only governments applying for traditional grants (not equipment rebates or technical assistance vouchers) are eligible to apply to host Fellows. If a municipality receives a Fellow, they can share the Fellow's work capacity with other municipalities in the region that are receiving EECBG Program funding. He underscored that "it could be really worthwhile, especially for rural communities with limited administrative capacity."
About Leif—how a young environmental activist enters a federal policy fellowship.
Leif is excited that this new position "ties into my previous work and my lived experience in rural New England." We both grew up in the Connecticut River Valley of Western Massachusetts. Leif reflected on the Valley as a place intertwined with its natural environment. "You saw it every day and you were in it—not just the forests and untouched nature—but also small farms and networks of people who are tied to the place in a meaningful way and making their livelihoods from it," he said.
As his understanding of the world grew, he got involved in politics and activism. He emphasized that "through exercises of power, different communities can build ecological futures and strive for the good life in those places, whatever that means for them."
In college, Leif was a co-leader of the Bowdoin Sunrise Movement, as well as a Bowdoin Votes Democracy Ambassador. "I hope to see more people involved in activism and advocacy at our age" learning through the kind of work we're doing to "navigate structures of political power and the policymaking process to get resources to local communities for climate action."
Leif took an "amazing" class in the Environmental Studies department, Talking with Farmers and Fishermen, a social science research methods class with Dr. Shana Starobin. He was able to interview farmers and fisherman "about their concerns surrounding rural livelihoods and renewable energy development." Through the class, he made sense of "the complex relationship of energy and food systems that exists in rural New England and other regions around the world."
Leif argued that understanding environmental history in North America, a required topic in Bowdoin's environmental studies program curriculum, is crucial to "navigating the nuance of how people are responding to environmental and climate questions across the country and meeting diverse community needs," as political context and material conditions are grounded in history.
Leif studied abroad in Ecuador his junior year with the School for International Training (SIT), a global institute of higher education and social justice headquartered in Brattleboro. For the last month of the semester, he worked on an independent project with the environmental justice collective Yasunidxs Guapondelig to understand environmental activism and just ecological transitions from the perspective of communities resisting mining projects Cuenca, Ecuador. One of Leif's most important takeaways from this experience was that "we need solidarity in the global network of environmental grassroots activism" and to learn from each other's frameworks on climate justice.
In the Summer of 2022, Leif worked on policy analysis and green financing programs through an internship with Coastal Enterprises, Inc., a community development financial institution (CDFI) in Brunswick, ME. The work, including collaboration on grant proposals totaling over $450,000 to expand environmental lending programs for small businesses and farms, showed "the power of targeted funding to directly shape climate action and to make an impact in local communities."
As someone who is unwaveringly passionate about climate justice, equity, activism, and the transition to renewable energy, Leif Maynard is a valuable addition to the Department of Energy. His interdisciplinary academic and professional background will provide a fresh and relevant viewpoint reflecting the next generation of environmental professionals who are critical to creating an inclusive network of empowered rural communities throughout the country. I am excited to follow the work he does as a Fellow this coming year.
August 2023
By Hanna Hartman – VTCCC Outreach Intern
Last week, I sat down with CATMA (Chittenden Area Transportation Management Association) to discuss the new bikeshare system in the greater Burlington area. Bird offers electric bikes (e-bikes) to our community. I spoke with Katie Martin, Associate Director, and Marlena Compton, Senior Marketing Associate, to learn the ins and outs of the program.  
CATMA partnered with Bolt Mobility for the Greenride Bikeshare program until the Summer of 2022, when the company unexpectedly went out of business. Over the past year, CATMA has been overwhelmed with feedback that community members wanted another bikeshare. A Community Bikeshare Survey open in Winter 2022 received more than 1400 responses, with "over 75% of respondents agreeing that the system should rebooted."  
CATMA has worked incredibly hard to get bikeshare out on the streets this summer. Throughout the last year, the organization has juggled a community survey and a request for proposals, finally negotiating contracts with the cities of Winooski, South Burlington, and Burlington, as well as Bird. 
 The transportation management association is excited to return 200 e-bikes to the Burlington area. "It is very satisfying to be able to give people what they obviously want," Marlena said.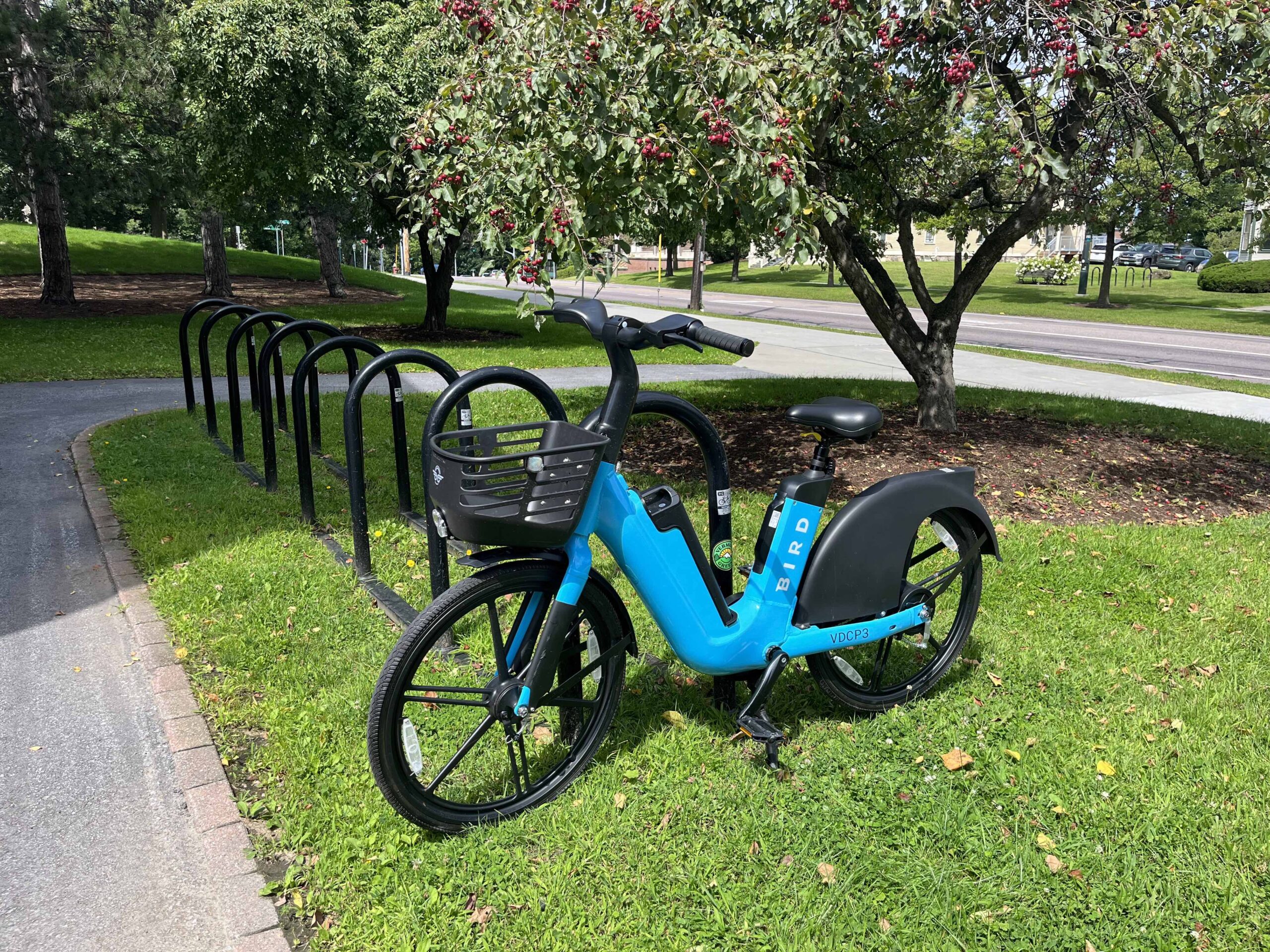 Bird functions differently from the previous bike share, so CATMA is focused on educating people on how to use and park the bikes properly.  Instead of a bikeshare system where users must return bikes to a designated hub, Katie explained that Bird bikes "move around the community in a way that's more accessible" to more neighborhoods. Bird bikes may be parked responsibly on the edges of sidewalks or at bike racks. With the previous docked system, residents of the Burlington area who lived outside of the downtown core did not have access to bikeshare near their homes.  
Marlena reported that there are now bikes throughout the area, including at the bus shelter near her home in South Burlington, as a bike rack isn't required to park the bikes. This example shows that the bikeshare is helping to boost personal mobility and create another option for the last mile of daily transportation. 
Jeremy Lynch, a Senior Government Partnerships Manager at Bird, explained that the battery of the bikes is swappable, so "local Fleet Managers can easily change out the batteries while keeping the bikes on the street and available for use 24/7." Fleet Managers charge the batteries at facilities with standard electrical outlets. A full battery will last between 40 and 50 miles. 
There are no gears on the bikes, as it is fully electric. The rider's pedaling engages the battery and boosts the power of the rider's exertion to a speed of 15 mph, at which point the battery stops assisting.  
The seat can be adjusted, with a maximum weight limit of about 300 pounds. The bike is very sturdy at 70 pounds and balances easily. The front basket is attached to the frame instead of the handlebars, providing "a better center of gravity for the rider and helps with balance on tighter turns." 
Marlena pointed out that e-bikes "make biking more accessible for a larger number of people." As part of a one-car family, she uses the bikes to go to the grocery store, as the distance is a bit much to walk from her house. CATMA has access to data on where people use the bikes. Marlena explained that "people are taking them into the city from outside, getting to sports events and getting to work." I have used the bikes to get home up the hill from the waterfront and with friends visiting from out of town.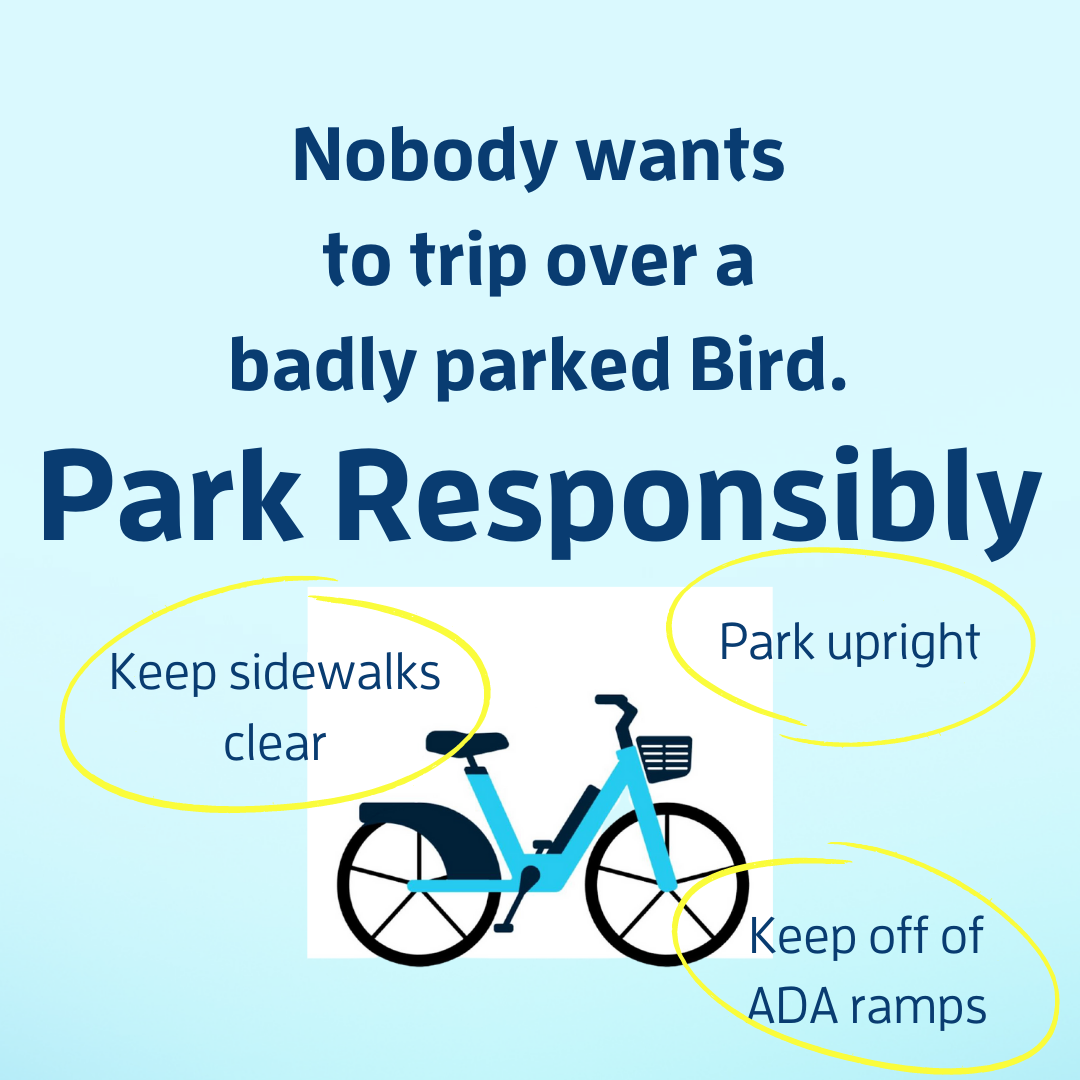 Birds cannot be ridden or parked on Church Street Marketplace or parts of Champlain College Campus. The bikes automatically reduce their maximum speed at the UVM Medical Center campus, the downtown Waterfront, and parts of the University of Vermont campus, with parking restrictions detailed in the Bird app. Bikes are also forbidden at Red Rocks Park, and Parks & Recreation land in the City of Winooski.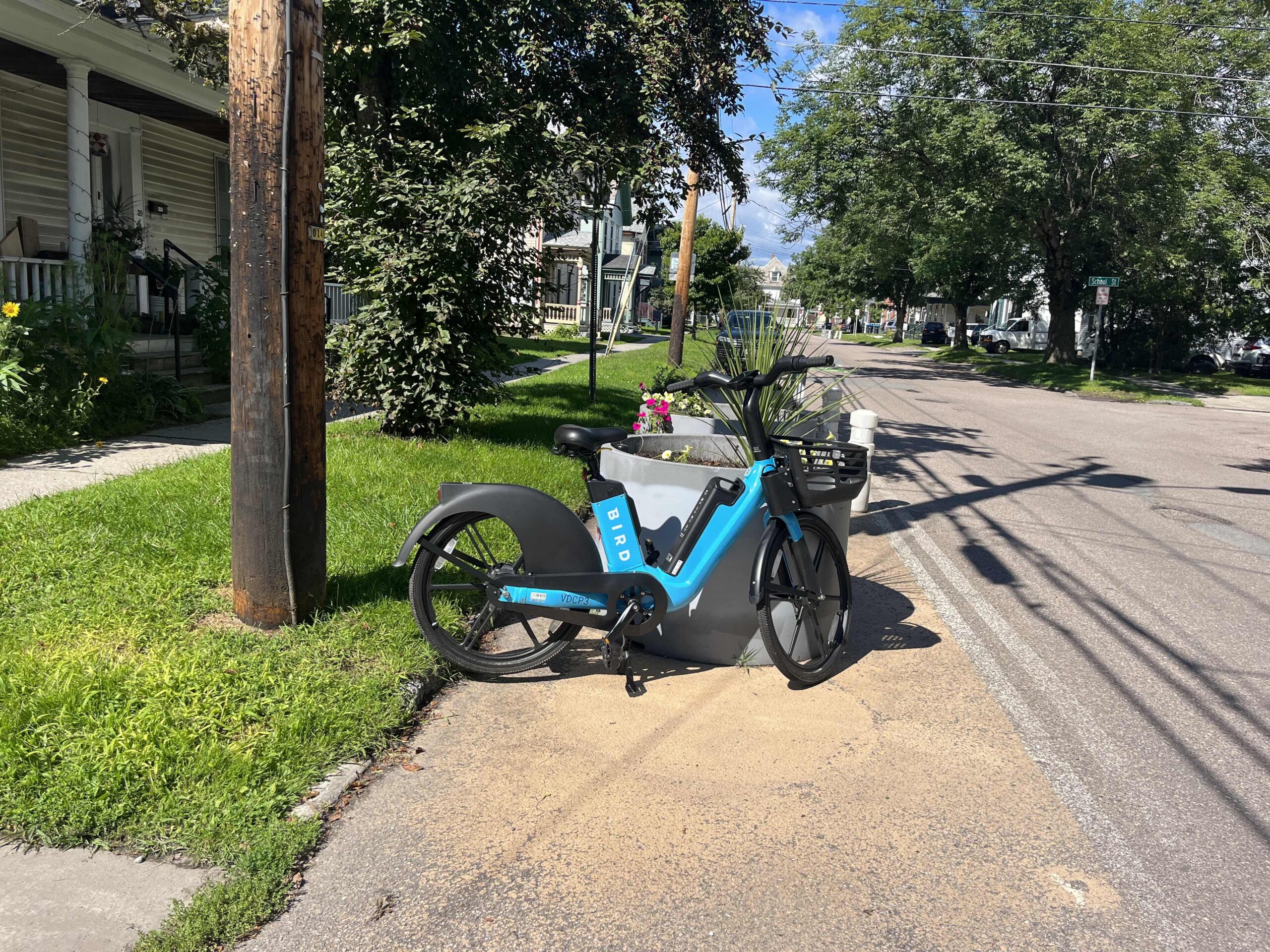 A well parked Bird. 
Katie disclosed that if community members, organizations, or student groups are interested in seeing data from the bikeshare, that is something that CATMA can provide through their contract with Bird. Marlena expressed that access to data "creates more opportunities for us as a community." As a metropolitan area committed to sustainable transportation, this data can help show which neighborhoods could benefit from additional transit, bike, and pedestrian infrastructure.  
Emily Adams, CATMA's new Program Analyst, shared some of this data with me.  

This graph shows the average number of BIRDS available for use in the public right of way (PROW) and the number of rides each day.  

The heat maps of bike ride start and end locations "look nearly identical, but something fun to note is that many people are using the bikes to end their trip around the beaches off the bike path," Emily explained.  
By allowing riders to choose exactly where their trip starts and ends, Katie expressed that "the users get more involvement in the system." She wants bikeshare users to "be good users because it's your system" and that by parking bikes appropriately, they avoid affecting other community members negatively.  
It is most effective and time efficient to report broken and improperly parked Birds by emailing vermont311@bird.co, as there is no phone number hotline. Marlena pointed out that "there are fleet managers in Burlington managing the bikes, and they are very eager to pick up abandoned bikes because nobody wants them where they shouldn't be."  
The bikes cost one dollar to unlock and 0.49 cents per minute of riding. CATMA members are eligible for a 20% discount, and Bird offers Community Pricing, which is a 50% discount for "senior citizens, U.S. veterans, and individuals participating in a state or federal assistance program." CATMA encourages organizations working with these populations to highlight the Community pricing model.  
In the Bird app, you can find a promo to send a friend a free ride. After they take a Bird for a spin, users will receive a free ride for themselves. Bird is ideal for point-to-point trips under 30 minutes. For longer bike rides, contact local bike shops for rental prices.  
Katie affirmed that if CATMA finds that local Bird users need a more accessible pricing model, they will work with Bird to evolve membership plans to "fit the needs of our community." Throughout the country, Bird offers a per-trip model of pricing. Still, CATMA will work through the winter to evolve pricing options and hopes there will be a monthly or yearly plan in the next biking season.  
I want to recognize CATMA's persistence and dedication in bringing bikeshare back. As the biking season progresses, the organization is analyzing the data and workshopping the initial system we have today to make a bikeshare that works for everyone. Check out their Bikeshare FAQ for more information on the bikes. If community members have feedback on the bikes, please send your comments to CATMA by emailing info@catmavt.org.  
July 2023
By Hanna Hartman – VTCCC Outreach Intern
     
CCE Golf Cars Opens New Location in South Burlington 
CCE Golf Cars is the nation's largest distributor of small-wheeled electric vehicles. While connecting with the company at VTCCC's Green Your Fleet event, we learned about their new location in South Burlington. I talked to Chase Newton, the Director of Marketing and Business Development at CCE, to learn more about the company's customer base and upcoming opportunities in Vermont.
Founded in 1978, Country Club Enterprises (CCE) focused on being Clubcar's New England fleet partner for over 40 years. When small-wheeled electric vehicles emerged in the market, CCE realized they could take advantage of that space. Chase aims to grow the consumer and commercial small EV market by helping municipal, residential, commercial, and institutional customers go towards a "greener future" by replacing aging internal combustion engine vehicles.
The marketing department is new at CCE Golf Cars. Chase Newton joined the team with the new CEO, Peter O'Connell, in December 2022. He focuses on experiential marketing by holding events to "put people behind the wheel of electric golf cars," as CCE offers a product unfamiliar to most consumers.
CCE is excited to engage with customers at their new location in South Burlington at 2041 Williston Road. The company took over from John Thompson's Golf Cars in June of 2022, and fully renovated for a fresh start as the fifth location of CCE Golf Cars in New England. Additionally, the company's CEO and CFO, Russell Spencer, are UVM alumni, so they are looking forward to having more opportunities to visit the area. CCE aims to "maintain the relationships and reputation that [they have] come to earn over all these years [in New England]," said Chase.
Small-wheeled electric vehicles include models from companies including Club Car, Onward, Garia, and GEM. CCE Golf Cars is the only New England dealer for GEM vehicles. Electric golf cars are quiet, reducing noise pollution on college campuses, neighborhoods, and golf courses that have switched from similar gas-powered vehicles.
In addition to taking care of the long-term partnerships with golf courses in New England, CCE serves the consumer and commercial markets. For the consumer market, Chase explained that their "focus is on fun," providing cars with special features such as lift kits, sound systems, cool colors, and rims. Part of this market is the campground audience, who can use the vehicles to get the family to the lake and back. The manager of the South Burlington store, Jerry Wadsworth, explained that many campgrounds in Vermont will require campers to use electric golf cars in the future.
"The new and growing space in consumer markets are low-speed vehicles," said Chase. Some models of small-wheeled electric vehicles are street-legal on roads in Vermont with a speed limit of 35 mph or less. With zero tailpipe emissions, these vehicles are great alternatives to internal combustion vehicles for customers looking to save on the environmental impacts and economic costs of their transportation. Due to slow speed limits in many Vermont population centers, including Burlington, street legal options such as GEM's 2022 ELXD and Garia's 2023 Via make it possible to get around town with zero tailpipe emissions.
Commercially, CEE is "really eager to push environmentally conscious fleets on campuses" to assist colleges and universities in fulfilling their sustainability initiatives and reducing greenhouse gas emissions. Campuses can utilize CCE's small, reliable alternatives in maintenance fleets, athletic departments, and other on-campus uses.
At Wake Robin in Shelburne, VT, the maintenance team uses the Club Car 2023 Carryall 500 with the turf package, which they purchased from CCE Golf Cars in the winter of 2022. Leslie Parker, the Director of Environmental Services, explained that Wake Robin replaced a gas-powered golf cart with the electric model, which is easy to charge on regular outlets with Level 1 charging. As the maintenance team only works during the day, charging logistics are "not an issue." The primary advantage of the golf car over other electric vehicles in maintenance work is that they are All-Terrain-Vehicles and "can be driven over the lawns without concern for damages to irrigation or geothermal wells from the weight of the vehicle." For the grounds team, the Carryall 500 works great in warmer weather to move items such as tools, ladders, and plywood, replacing a pick-up truck for many tasks.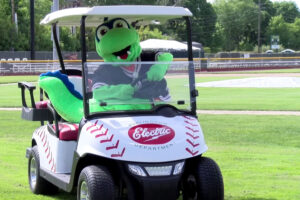 Here in Burlington, the Vermont Lake Monsters baseball team use an electric golf cart, which they replaced with the help of incentives from the Burlington Electric Department. Their mascot Champ loves driving around in an energy efficient EV.
As most vehicles are open-air, CCE's "bread and butter are the spring, summer, and fall." Although the range and run time for small-wheeled electric vehicles vary by make and model, GEM's lithium battery vehicle has a 90-mile range. At CCE Golf Cars, the pre-owned electric vehicles range from $4,995 to $12,495. While often being more expensive up-front than gas-powered cars, EVs require less maintenance and are powered by electricity with stable prices, leading to long-term savings. Many pre-owned electric fleet cars– CCE's best sellers– are upgraded Club Cars sourced from retired golf fleets. They are customizable with various sizes, colors, lifts, and stereo options. CCE has over 450 pre-owned electric vehicles in inventory.
Sustainability is a high priority for CCE Golf Cars. Chase asserted that "there's a reason why we are selling mostly electric vehicles: we see it as the future." Furthermore, he predicts that the ban on petroleum-fueled small-engine in California will spread throughout the country and become the standard. CCE is "proud to offer alternatives for all types of vehicles," from college clients to campground-loving families. If you're interested in trying out an electric golf car, head down to CCE in South Burlington for a test drive with Head of Sales Tim Martell.
May 2023
By Cate MacDonald – VTCCC Outreach Intern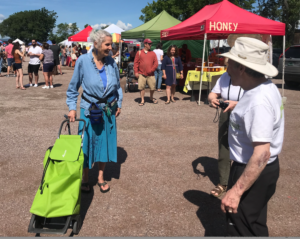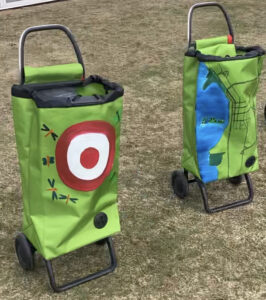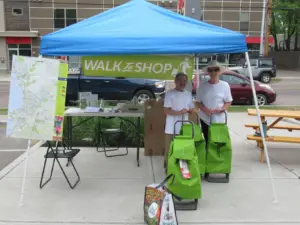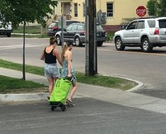 Walk to Shop
I recently sat down with David Brantley, a Senior at the University of Vermont who works in the Office of Sustainability. In fall 2022, David was awarded funding through UVM's Sustainable Campus Fund (SCF) for the purchase of Walk to Shop Trolleys. The SCF supports student-led sustainability projects that make necessary changes to reduce the University's impact on climate and the environment.

With the grant funding, David partnered with Walk to Shop, a non-profit program that offers shopping trolleys at cost – or fully subsidized to many Vermonters – to help them carry goods more easily. David wanted to bring the Walk to Shop trollies to the residence halls at UVM. Pictured to the right, these lime green trollies provide an easy way to carry groceries while walking or using public transportation. The tolly is light, maneuverable, and rolls smoothly over sidewalks and interventions. Additionally, its vibrant color is highly visible for safety.
The Walk to Shop program seeks to support more efficient travel for necessary short trips by walking instead of driving to destinations. Most Burlington residents live within a 15-minute walk of their nearest grocery store, though many are unaware of this. The trolley serves as an important accessibility tool allowing a greater range of people to make these short shopping trips by walking.
David shares his lived experience which prompted him to bring the trollies to campus for student use. Growing up in Tennessee, David had never ridden transit before. When he arrived at UVM, he did not have a personal vehicle. David explains the logistical and financial complications that occur when every college student has a car. He thought, "I'm just not going to deal with it. I want to experiment a little bit." David navigated without a car very smoothly until moving off campus. He explains the experience of carrying heavy grocery bags back to his apartment. He attempted putting them on his bike but quickly discovered that was not an easy solution when navigating the hills in Burlington.
In September, David went to World Car Free Day, an event at City Hall Park that aims to highlight opportunities available to live car-free in Burlington by walking, biking, and using public transportation. At the event, David encountered Walk to Shop for the first time and immediately saw the trolley as a practical, affordable solution to his problem. David explains, "People wouldn't bat an eye spending the same amount or more to repair their car, buy a tank of gas, or purchase a parking pass." The Walk to Shop trolley eliminates the need for these other spendings. David wanted other students, both on and off campus, to have the trollies as a resource to ease the difficulties of walking or taking the bus to shop.
David partnered with the Walk to Shop team along with Caylin McCamp and Abby Bleything from the Office of Sustainability to apply for UVM's Sustainable Campus Fund. With the funding, David purchased 25 trollies from Walk to Shop, distributing two to each of the 11 Residential Life desks and two to the Hoffman Desk on the first floor of the Davis Student Center to be available to all UVM students and staff. And one is located in the Office of Sustainability. David reports that the trolleys are being checked out by a handful of students and staff. Most people are using them for food and cleaning supplies. David states, "There are a lot of practical uses for it. I've used it for grocery shopping, the farmers market, club things, and one time I put a pumpkin in it!"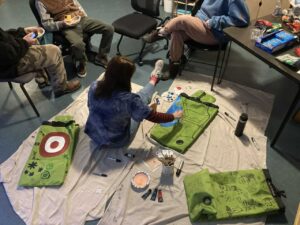 Posters are distributed around campus promoting the trollies. David created a menu of things that are offered at the Residential Life desks and the Hoffman Desk in the David Center for UVM students and staffs' convenience, including the Walk to Shop trollies. Outreach has also occurred through social media, peer-to-peer conversation, and events such as a trolley painting event on UVM's Trinity Campus.
The Walk to Shop program is well equipped to continue into the future as UVM Residential Life signed onto the project and will continue to manage the trollies after David graduates this spring.
Thanks to David for launching this project at the University of Vermont. This is a huge step in the right direction to introduce UVM students to the ease of carrying goods with the trolley, using public transportation, making Burlington a more walkable city, and reducing the need for personal vehicles!
David concluded our conversation by talking about his car-free lifestyle. He describes the bus as originally being challenging and intimidating, though in only a couple of weeks riding it, he felt comfortable navigating the city. David states, "I started thinking about the sustainability aspect. It started to make less sense to drive price wise and environmental impact wise." When asked to provide advice to people exploring a car-free lifestyle, David states, "Start a little bit at a time and carve out time to get comfortable with it. You will build confidence. College is the perfect place to try new ways of moving yourself around!"
April 2023
By Cate MacDonald – VTCCC Outreach Intern
CarShare Vermont
CarShare Vermont is a nonprofit organization whose mission is to provide an affordable, convenient, and reliable alternative to private car ownership that enhances the environmental, economic, and social wellbeing of our community and planet. CarShare has a network of vehicles parked in convenient locations around Burlington that members can reserve and use by the hour or day wherever they need to drive. 
Last week I sat down with Alicia Taylor, CarShare's Director of Community Engagement to learn about CarShare Vermont's mission and how it has impacted Burlington and surrounding communities for the better. Alicia joined CarShare's team in 2012, four years after the nonprofit was established. At the time, the organization had about 10 vehicles and 500 members. Alicia is proud to say that today, CarShare Vermont has over 1,000 members and 22 vehicles and counting. 
Reducing emissions and improving mobility
Transportation is one of the biggest sources of greenhouse gas emissions in the state of Vermont and driving personal vehicles is the largest segment of that. When people have cars parked in their driveways, they are convenient, causing them to drive their vehicle way more than it needs to be driven. CarShare is on a mission to help people own less vehicles, causing people to be more mindful and naturally drive less. Whether that be a two-car household going down to one, or being car free altogether, CarShare is providing people with a way to reduce their carbon footprint.
With currently 50 percent of its fleet either fully electric or plug-in-hybrid, CarShare is working towards electrifying its remaining plug-in-hybrids, bringing two more dedicated chargers online this year. CarShare's plug-in hybrid vehicles allow members to drive 25 fully electric miles – and luckily for them, most CarShare trips are within 25 miles! 
Because members have varying levels of experience and knowledge with hybrid and electric vehicles, CarShare's Go Electric video helps to demystify the different types of EVs in their fleet. Alicia states, "you don't have to be nervous; they are easy to use!"
Shifting behavior: Park-It-Pledge campaign 
CarShare's Park-It-Pledge campaign is a great way for people to experiment with a car free lifestyle. By committing to "park" their car for two months, driving it as little as possible, pledgers receive a bus pass, bike incentives, and a CarShare free trial. By changing mobility practices, pledgers can see that a car free lifestyle is possible and they can use that knowledge and experience to continue that behavior change. 
Alicia highlights the efficiency of CarShare, stating, "For me, if I am booking a car, I am usually doing two to three errands at a time. Trip chaining is a much more efficient use of cars." 
CarShare membership and membership options 
Alicia emphasizes that Carshare is for everyone. Membership options range from college students that cannot bring a car to campus but may want to go to the mountains for the day, to seniors in affordable senior housing that are ready to not own a vehicle anymore but still want the independence and freedom of having access to a car. And everyone in-between! Alicia shares that in her household with young kids in Burlington, they do not need to own a car because they can walk, bike, or take the bus to school and work. Through CarShare, they are still able to travel out of town for other activities. CarShare allows them the opportunity to not spend money on a vehicle that is ultimately losing value. 
CarShare's Mobility Share plan offers financial assistance for low-income households. The plan offers discounted driving rates and waives the membership fee entirely. 
Other membership plans are geared toward college students and staff, businesses, individuals, and households. Read more about pricing and membership options at carsharevt.org.
Be Car Conscious Cost-to-Drive Calculator
How much do you think it costs to operate your primary vehicle for one year? CarShare Vermont recently launched its Be Car Conscious Cost-to-Drive Calculator, a tool to help Vermonters get a sense of how much it really costs to own and drive a car. To be more conscious of your true driving costs, calculate here!
Future Plans 
This spring, CarShare VT will be expanding to Winooski, bringing two vehicles with the help of state funding. CarShare is excited to work with the state to show that car sharing is very valuable and could be a model for other communities. Car sharing can have big impacts on communities like Winooski, allowing households that do not have cars mobility for the first time. 
Because Vermont is considered rural carsharing, there aren't a lot of models like it in the country. CarShare VT proves that car sharing can have a huge impact on people's lives and their ability to access the services that they need to get around. But it does need some state support, just like public transit, to expand services into new areas. Alicia emphasizes that CarShare VT is open to sharing resources, knowledge, and expertise to help expand car sharing and other shared mobility options. There is a lot more growth possible here in Burlington and surrounding areas. 
November 2022
By Maisie Melican – VTCCC Outreach Intern
Propane as a Renewable Fuel
Judy Taraovich from Proctor Gas
As we transition heavy-duty vehicles away from diesel, alternative fuels renewables and biofuels are important to help reduce greenhouse gas emissions, improve air quality, and save Vermonters money. Vermont Clean Cities Coalition works locally to advance and increase the use of domestic alternative fuels, and their renewable options, all of which reduce petroleum consumption and the emissions that impact our air quality. This interview with Judy Taraovich from Proctor Gas will help explain more about propane, renewable propane, resiliency, and reducing emissions.
Proctor Gas was formed in 1966 by the Taraovich family. Jimmy, Judy's husband, took over the family business in the mid-80s. When he passed away in 2010 after a motorcycle accident, Judy was running a gift shop alongside the existing Hearth store and was not very involved in the management of the propane business. After the accident, she recalls gathering the team together and asking them what they wanted to do. She said, "I can sell it today and we'll be okay, or we can stay together. We've been a family for a long time, and we can move forward, if we do that, you have to understand that you're all babysitters until I can learn." They decided to stay together, and Judy started running the company on her own in October of 2010. It could never have been done without great people, she says.
It took Judy awhile to get the hang of the propane industry, something she says is an ongoing process. Renewable fuels are evolving at an incredible rate right now. We're growing to meet the demand, Judy says, especially with the renewable piece, we're answering the call. Propane is the third most popular vehicle fuel worldwide, but the US has been slow to embrace it because gasoline is so readily available. Many people don't want to rely on gasoline and diesel as much, and they're thinking electric is their only alternative, and that's not the case. Others are pushing back on electric cars. They want what they know, and with a gas station on every corner, people don't want to be limited to where they can find fuel.
Although propane autogas isn't as popular as gas or diesel in the United States, school buses and transit buses have been using the alternative fuel for a long time. According to the Alternative Fuels Data Center, propane autogas was first considered an alternative green fuel under the Energy Policy Act of 1992. The decision was based on its clean burning qualities, domestic availability, and comparatively low costs, all of which make it a viable alternative to more traditional fuels. That's what they use in Maine at Acadia National Park, Judy notes, because propane is much safer than diesel for the park's ecosystem. They began service in 1999, and after 20 years of service, they added 21 new propane busy to meet the demands of the busy park.
As an industry, there continues to be a lot of research into getting propane auto gas off the ground. They're doing a better job of getting the word out and saying, "we're not only a viable option, but for energy security and for clean emissions, we need a seat at the table." Propane is very low in CO2 (Carbon Dioxide), NOx (Nitrogen Oxides), and SOx (Sulfur Oxides) emissions. It's a clean burning fuel, it's much friendlier on engines, and it's very portable. It can easily be added as a fueling station alongside a regular gas station, and the fill time is the same as filling your gas tank.
Another benefit is that propane boils at – 44º, it doesn't matter how cold we get in Vermont, your propane engine will start in the morning. During disasters, like the freeze that happened in Texas last year, they relied on the propane school buses to transport residents to safety, as it was the only fuel available to move people around. This is why it's important to diversify the U.S. fuel supply, especially with domestically produced fuels that use established infrastructure. Overall, propane reduces our use of imported petroleum and strengthens national security (AFDC). When the VW money became available, Judy lobbied to get a propane bus to demo in Vermont. Even though they were supposed to use alternate fuels, they focused primarily on electric. You can buy two and a half propane buses for the same price as one electric bus, Judy says, taxpayers would have had more buses for the same amount of money. Right now, although propane pricing has gone up, it's nowhere near other fuels and remains stable. According to the July 2022 Alternative Fuel Price Report, propane autogas in New England is $3.78 a gallon, compared to $4.54 for regular gasoline (see page 14).
Propane has a lot of good properties, and as we move to renewable propane, we can be net zero emissions. Renewable is the exact same chemical makeup as regular propane, C3H8, so 3 carbons and 8 hydrocarbons, explains Judy (AFDC). It comes from waste materials, such as animal waste, recycled garbage, and cooking oil. Although there's a lot of different feed stocks, it still has the same carbon intensity whether it's renewable or regular propane.
Judy had a renewable propane event at the end of June and received inquiries from a variety of people. I don't think it would be a hard sell, she says, it's just a matter of selling something that I can't provide yet. There's not enough of it in the East right now, most renewable propane is coming from Louisiana. They're upping production, they know the industry needs it, so the research and the move is a lot quicker than it was five years ago. The reality is that we're not ready to supply renewable to every costumer, but it's the same situation with electric. I have been and continue to be a firm believer in balance, Judy says, all energies still need a seat at the table for energy security.
Having talked to the Vermont legislature and testified at the Energy Committee, Judy hopes to turn some opinions. We just need some open minds, she says, they have to listen to what we have to say. Some people are just dead set on the electric regardless of what we tell them, and I'm hoping that as we continue to speak about our product, the benefits and security of it, then one by one we'll start to get the door opened a little bit. Some New England states have already started to entertain the idea that propane is a good compliment to electric, it's certainly cleaner than coal, which produces a lot of the electric in other states. When it comes to renewable propane, it will be more about the buy-in than the size of the market, once people understand what the product is. Propane is clean, reliable, and portable. It can go where electric can't go and do what electric can't do. I think, Judy explains, that marketers all understand that to get their foot in the door, they're going to have to pay a little bit more initially to get it up here. A costumer who wants to buy in is going to have to pay a little bit more in upfront costs, similar to the person that's driving the EV, they're spending more upfront than they would for a gasoline car. There are customers where the environment is more important to them than what they're driving, and they'll start to drive the market. Then it's like anything else, Judy explains, the more we sell, the cheaper it's going to be, and it will snowball. Judy is optimistic that there won't be any trouble bringing renewable propane on board when she's ready to start filling her tanks with it. I think it'll sell; she says, I know one of my suppliers is considering going all renewable and if they do, then I'm jumping in.
September 2022
By Maisie Melican – VTCCC Outreach Intern
Irene Webster is a case manager for the Association of Africans Living in Vermont (AALV) and the coordinator of the AALV women's group. AALV is a non-profit, non-governmental organization (NGO), community-based program that helps refugees integrate into their new environment in Vermont as New Americans. AALV acts as a bridge to various services that New Americans might need.
AALV: What is Irene's role as a case worker?
Irene's role is to be a support system for her clients, helping them with everyday tasks that might be new and difficult. Things such as opening mail, getting food stamps, or making doctors' appointments. Having initially registered with AALV as a Swahili interpreter, Irene was interested in becoming more involved with the organization. Soon she assumed the role of case manager, a transition that she says was surprisingly easy. Through her experience as a case worker, Irene has learned how to communicate with different types of people. At first, she simply thought of all her clients as African, without thinking about the individual countries they come from. Now, she's learned how to approach clients of different cultures and more quickly recognizes the traditions they practice.
Irene works with families and hosts a women's group, where all the participants are women who have experienced war and extreme trauma. Often these women are shunned in their larger communities, Irene explains, they can be looked at as damaged goods. This group provides a safe space for them to gather. In addition, UVM's Connecting Cultures works closely with Irene to connect the women with clinicians who can provide them with therapy. During group time they participate in fun activities and get to know more about each other. It's very important for them to be able to trust and to feel connected, Irene says. She has seen a lot of healing happen as a result of the trust she helps them build.
Transportation Barriers
I spoke with Irene last month to learn more about the transportation barriers that her clients face. I began by asking about the transportation methods that are most popular for her clients.
Once they've become established in the area, most of her clients use the bus. When they're new to the community, she says, it's mostly rides from family and friends. Then, after they understand the layout, they will venture onto the bus. With rising inflation and interest rates, most of Irene's clients stick to public transportation instead of purchasing a car.
For the most part, public transportation is easy to use, if you don't have other barriers. English language ability and the ability to read and write are important for navigating bus routes. Her clients need a lot of hand holding, especially because they can't communicate with the bus drivers. You also can't talk about these transportation challenges in isolation from who these people are, what their experiences are, their cultures, economic ability, or family structure. All these things can contribute to their ability to get around. Picture yourself she says, you've just arrived from a refugee camp, you're trying to get integrated into the community, and you must overcome these things that might sound easy for the person who's grown up here. You must remember one thing in particular, they come from survival mode from their time in refugee camps, and they arrive in Burlington, still in survival mode. Then, once they are given the time and resources to help them understand the bus schedule, it's easy.
Although the bus is the most popular means of transportation, there are still some challenges with using it. One of the main difficulties for clients is the walking distance from the bus stop to their houses. If the stop is not in a convenient location in relation to their house, people who have trouble walking long distances are not able to take the bus. This goes for the proximity of a bus stop to their jobs as well. For example, many New Americans work for Sodexo, the company that manages The University of Vermont's dining halls. Typically, the Sodexo employees take the bus from downtown to the stop on Main St. by the Living and Learning complex. For those who work on Redstone campus, the half-mile walk to the dining hall can be difficult, especially if they aren't confident walkers. Either way, it's not ideal during the coldest months of winter.
Bus times are also limited, so for her clients working the night shift, it's difficult to get to work on time. When a client can't get to their place of work on time, that affects the way you're their employer views them. In some cases, she says, they could be fired for being late, which in turn affects their income. Their livelihood relies on them being able to get from point A to point B, and there are many instances where clients haven't been able to do that.
The greatest challenge though is when the bus doesn't run. For the people who live in Colchester, they must walk several blocks to reach the buses, and some of the pregnant women in the area had a difficult time getting there. I know that there are supplementary bus services that run in that area Irene says, but how many people know about them? If riders don't know about these services, then they are inaccessible.
Green Mountain Transit (GMT) is a good service, and because they're experts in their field, they should figure out how to improve what already exists by adding a necessary lens of diversity and communications training. It would be great if the bus drivers could take a crash course lesson in how to communicate with New American passengers, even if it's just a hello. If service providers made an effort to consider their culture, it might make their integration smoother; it really takes a community to make everyone feel welcome. If GMT hired more diverse bus drivers from the New American community, it might help to bridge some of those barriers and would be helpful for folks to see a familiar face. Lastly, there's a perception by many people throughout the U.S. and in Burlington who think that the bus is only for poverty-stricken people, but if GMT campaigned and raised their profile just a little bit, we might have more people consider public transit as a viable way to get around. If other community members decided to ditch their cars on their commute, New Americans would feel more welcomed and included. We all have a lot more work to do to shift the meaning of public transit in Vermont. Vermonters of all backgrounds can normalize using the bus system, as they do elsewhere, and shift the focus away from cars.
August 2022
By Maisie Melican – VTCCC Outreach Intern
Old Spokes Home is both a retail bike shop and a non-profit organization that serves Vermonters in need through their Everybody Bikes program. Through the program, Old Spokes Home sells bikes under $400 dollars at a subsidized cost of 50% off. Typically, the least expensive Everybody Bikes bike is $50. This includes 50% off repairs and 35% off accessories.
Last week I sat down with Jon Copans, who has recently taken on the role of executive director. Having a deep passion for the transformative power of bicycles and admiration for the organization, Jon was excited to fill this role at the non-profit.
Interview questions and answers have been edited for brevity and clarity 
Old Spokes Home is unique because of your Everybody Bikes program, how did the program begin?
In 2005, Ron Manganiello started a non-profit organization called Bike Recycle Vermont. Inspired by a New American family in need of a bike, Manganiello repaired a bike he found in a nearby dumpster for the family. Meanwhile, across the street, there was a great for-profit bike shop called Old Spokes Home. Founded by Glenn Eames, it was a destination bike shop for new and used bikes. The two shops both served people in the Old North End of Burlington and beyond. So, you had a nonprofit fixing up donated bikes and across the street you had a for-profit business fixing up and selling used bikes. Eventually, the nonprofit purchased the for-profit bike shop and formed this new organization that retained the name Old Spokes Home.
The Everybody Bikes program is the latest iteration of Bike Recycle Vermont, which means donated bikes and lots of volunteers who help out. People who come here are in search of a bicycle yet might not be able to afford a brand-new one. Maybe they want a bike because they want to ride with their family on a bike path. Often, they need one to get around and it's the most affordable way for them to do that. Either way, we're just happy for people to bike. We love people who bike for transportation of course, but the truth is, we also love people who ride for fun. Of course, you can ride for transportation and for fun at the same time.
Who qualifies? 
There are three ways to qualify for the everybody bikes program. The first two ways to qualify are if you're on any government assistant program or you get referred from various community organizations. The third category is a little more informal. Basically, if you just tell us that you qualify and you assert it. We will say okay, we want you to have access to a bike.
How would you describe the impact of the program?
The bicycle is a magical object. It's simple, it's fun, and it brings joy. It's also affordable, so we say that bikes can transform lives and communities. Maybe, it means that someone doesn't have to wait for a bus, buses are great, but sometimes the bus schedule can be a barrier. Maybe someone's commute to work is a great bikeable distance, and now they can bike there in half the time. Maybe it's a kid, because we serve a lot of kids here, who just wants a way to get to their friend's house. Suddenly, what used to be a long walk, becomes a short bike ride. Or maybe it's a teenager that's biking to a job every day or to school. Some kids do it solo, some with their parents. In all those different ways, bikes change people's lives for the better.
Bikes change communities. A more bikeable place, with more people biking, is a more livable and vital place. I don't necessarily like to vilify cars, but the reality is that the overall impact of cars really diminishes quality of life. Places that have fewer cars or car free spaces often feel better. Maybe it's the amount of space we dedicate to parking, when it could be used for housing or green space. Maybe it's the fact that most cars have tailpipes and there's a whole set of emissions that people breathe and health implications with that. Bikes aren't great just because they aren't a car, but you can't ignore the impact of cars when it comes to communities. They can be detrimental to our quality of life. I'm not pretending they aren't also fundamental tools of independence for some people, but many car trips could be bike trips or walking trips. It's not just about replacing one with the other, it's about choosing one instead of the other.
Recently you added an Everybody E-bikes program, what was the reason for adding e-bikes?
Unfortunately, it's fading away at the moment because of supply chain issues that have made the program on again off again. They're a little less accessible from a cost standpoint. They're also less accessible from a simplicity standpoint, part of what we love about bikes is that we can teach people how to fix them themselves. It's a very low barrier to entry in terms of doing some of the basic maintenance and part of our mission is helping people learn how to do that.  E-bikes are a bit more complicated.
That being said, e-bikes can be transformational for folks. It can mean more independence, particularly from a physical standpoint. Vermont terrain is difficult, going up hills or covering larger distances. Suddenly, you're decoupling someone's physical ability from their capacity to use a bike to get somewhere. That's a big deal. One person I spoke with, who was a volunteer here, said that they didn't bike to work because the last part of their ride is uphill, and they'd get sweaty. Now, they bike to work every day using their e-bike without even breaking a sweat. The Everybody E-bikes program has been great, but I think we just got our last customer for the moment. The program isn't live right now, but I fully expect we will be back in that space of making E-bikes accessible.
Old Spokes Home created a Transportation Equity Coalition, tell me more about that.
The equity coalition is a winding path. We convened a set of Vermonters with lived experience to help us think about transportation equity. In particular, this group did something called a mobility audit that we put together with CCRPC.
It's a very illuminating report about the nature of getting around when you live in the Old North End. Not everyone has, for a variety of reasons, the number of cars needed to get around. In fact, almost 30% of households in the Old North End don't have a single car and many others only have one car. These households have a puzzle they must put together in terms of figuring out how to get around. In a bunch of different ways, the audit really helped paint a picture of where some of the gaps are and some of the things that aren't working.
Most of the people included in the audit rarely have the opportunity to participate in a public conversation about our transportation system and its shortcomings. That's the potential of the coalition, there are a lot of voices missing from some of these public conversations about infrastructure, it was great to create a place for that conversation to happen. One of the big issues for people was the condition of sidewalks, which is something that I previously didn't think about. The audit prompted me to think about what it's like for someone who rolls around instead of walking or someone who doesn't walk confidently, an uneven sidewalk may become a reason that they don't leave their homes as much. Even if you need to walk that half a block or two to catch a bus or to get to the grocery store, suddenly having a rough patch of a sidewalk full of holes, puddles, or ice could inhibit travel. In a lot of ways, transportation and liberty are intertwined. Your freedom is deeply connected to your ability to get around.
What other support do you need from the community? 
The first thing I would say is that we feel well supported. We have customers and program participants who are engaged and we're nothing without them. There are a bunch of different ways to support us, whether it's by donating your bike to give it a new life, making financial contributions to the organization or coming in and getting involved.
Thank you, Jon, for taking time out of your busy schedule to talk. VTCCC appreciates your work and is grateful to have Old Spokes Home as a stakeholder.
July 2022
UVM's Green Just Got Greener
By Maisie Melican – VTCCC Outreach Intern
Interviews conducted by Jessica Poulin
A conversation with Matt Walker (UVM Physical Plant Department), Steve Wisbaum (Mow Electric! Campaign), and Darren Springer (Burlington Electric Department)
In Burlington, the humid heat of summer and intermittent downpour means maintaining grass lawns can be quite the task. This entails the constant sound of mowers and trimmers buzzing throughout the warm months, which is bothersome for students and residents alike. Noise pollution aside, gas powered lawn tools also emit dangerous pollutants and contribute to greenhouse gas emissions (GHG). According to Steven Wisbaum, founder of the Mow Electric! Campaign, a conventional commercial gas mower uses an average of one gallon of gas or diesel fuel per hour, which is associated with the release of approximately 20lbs. of CO2 per hour. Commercial mowers are operated for 600 to 1,000 hours during Vermont's 6-month growing season and consume 600 to 1,000 gallons of fuel, generating 6 to 10 tons of CO2 per year.
UVM business student Niels Arentzen (UVM 2022) identified these issues and imagined a quieter campus and a cleaner city. To make this a reality, Niels reached out to Wisbaum to gather more information about the costs and feasibility of electric lawn equipment. As it turned out, Wisbaum had also been interested in the electrification of UVM's lawn equipment and provided initial support to Niels on the project concept, and ideas for a pilot. He informed Niels of UVM's Sustainable Campus Fund (SCF), formerly known as the Clean Energy Fund, which was launched in 2008 to encourage students and faculty to pursue projects that promote sustainability in the UVM community. He encouraged Niels to reach out to Peggy O'Neill-Vivanco at VTCCC to continue the project, develop relationships with Grounds, and secure grant funding.
Niels and Peggy wrote a successful proposal to the Sustainable Campus Fund for a 60" zero-turn (ZTR) electric lawn mower for the Grounds Department to pilot. The mower began operating in August 2021, though the grounds department typically mows from May 1st to October depending on the weather.
Last month, we spoke with UVM Physical Plant Department (PPD) Grounds Manager Matt Walker to get an idea of how his new electric mower was working. He says the pilot went well. He admits that he was hesitant at first, having purchased a different e-mower in 2020, and found that the model was not comparable to gas machines. As a part of the pilot, Niels worked with Grounds to develop a matrix of criteria for evaluating the e-mower. Grounds demoed a few different machines and decided on the Gravely EV60 zero-turn mower. The machine is used primarily by one crew, who has seen how it compares from day to day, and they love it. They have plenty of machines Walker says, if they didn't like the Gravely, they wouldn't be using it. The crew says the Gravely is comfortable, and most importantly, the charge provides enough mowing time to get through the day. One key reason why Walker chose his Gravely EV60 is that it has four batteries that can be easily pulled in and out. This makes it easier to get spare batteries, swap out the depleted ones for individual charging, and continue working. Many electric mowers have one battery that can weigh several hundred pounds. The Gravely has met the needs of the grounds department, something he says has been hard to do in the past.
The Sustainable Campus fund grant covered 100% of the purchases, including the spare batteries (approximately $26,000 for the machine a set of batteries; plus, spare batteries for $8,000). While the upfront costs of an electric mower are higher, Walker noted that he has been pleased with his savings on maintenance. For comparison, a gas-powered machine would cost anywhere from $12,000 to $15,000 to purchase, but would easily burn $10 of gas a day. The machine would also need daily greasing and monthly oil and filter changes. Because of fewer moving parts on an e-mower, the fuel (electricity) is negligible, and maintenance is reduced to about once per month.
The grant proposal included a $3,500 commercial e-mower purchase rebate from Burlington Electric Department (BED). To get an idea of what these rebates look like for Vermonters, we spoke with Darren Springer, General Manager at BED. Starting in 2018, BED introduced the incentive programs to help cover the costs of electric mowers (as well as rebates for a variety of technologies, including electric vehicles and heat pumps) and since then, they have expanded the opportunity to a variety of electric lawn tools. According to Springer, out of 400 e-mower rebates, 390 went to residential customers, proving to be popular. Customers have been happy with them, saying they have multiple electric tools using the same battery. About 15-17% of these rebates are going to low-income customers, though Springer says he'd like to see this number go up, and that BED will advocate for changes to the state's Renewable Energy Standard that would create more flexibility to offer higher incentives and expand these benefits to the larger community. Overall, we'd like to see the rebate program grow every year as we strive towards the NetZero 2030 goal, Springer explains. We want to grow participation, and it's important to have stability in rebate programs and to build awareness about what programs are available for customers.
There is still hesitancy though, new technology can be a barrier. Although Springer's experience with electric lawn equipment dates back over a decade, he still understands the hesitancy behind switching to electric. He reminisced about his early plug-in mower, and then his first battery-powered mower that couldn't hold a charge for long. Luckily, technology has advanced since then with the introduction of lithium-ion batteries, but many customers are still nervous to make the switch. They usually aren't sure how it will work or if it will work for them. That's why demonstration events are good, Springer explains. Most people need to see how the equipment works, to demystify it, and many won't buy or try equipment until their previous equipment breaks. That's why it's good to make people aware of the rebates, even if it's not relevant to them at the moment. It's also important to see e-mowers in use by contractors, BED, the City of Burlington, and by UVM. Residents can see the electric technology in action and see the cut quality without emissions and the excessive noise of gas-mowers.
The UVM Grounds e-mower pilot program is an excellent example of a large-scale, public demonstration. According to Matt Walker, he has received a lot of positive feedback, and students, faculty, staff, and neighbors seem to be excited about the shift to electric lawn tools. He mentions that they've gotten lots of thumbs up and see waving and smiling as the e-mowers hum across the green. Most people are happy with the volume of the mower, Walker thinks the noise reduction will help during class times and towards the end of the semester during exams. It's almost quiet enough to not wear ear protection, he says, and without the blades engaged, it makes almost no noise. Grounds has launched from the pilot and is taking the lead on equipment electrification. This past spring, Walker worked with VTCCC and successfully applied for another SCF grant, with BED rebates, to demo and purchase electric chore tools, such as blowers, trimmers, and push mowers in summer 2022. By reducing petroleum consumption on campus, the Grounds electrification efforts are part of the larger, more ambitious University Climate Action Plan. The hard work applied to this pilot will bring UVM one step closer to its goal of 100% carbon neutrality by 2025. VTCCC is committed to supporting the University and the city of Burlington's goals of reaching carbon neutrality in the transportation sector by being a reliable resource on alternative fuels and working with partners on vehicle and equipment demonstrations and pilots.
April 2022
Energy Planning for the Future: Two Rivers-Ottauquechee Regional Planning Commission
By Jessica Poulin – VTCCC Outreach Intern
Regional planning commissions help towns in their service areas clarify and implement current and future needs, and connect them to the state and federal resources to do. Their expertise includes issues such as transportation, energy generation and use, land use and growth, and economic development, with the goals of increasing community and regional vitality and quality of life.
This month, I spoke with Geoff Martin who has served as an energy coordinator for the town of Hartford and is currently an Intermunicipal Regional Energy Coordinator at the Two Rivers-Ottauquechee Regional Planning Commission. Currently, he works with municipalities to lessen energy use, lower greenhouse gas emissions, and transition to the use of renewable energy at the local level.
Geoff gained valuable experience working in the energy sector as a home energy advisor in MA. He then earned his graduate degree in environmental science from Emory University, where his thesis focused on the effectiveness of climate and energy policies at the state level to reduce carbon emissions. Upon graduating, he spent three years working as an energy coordinator for the town of Hartford, VT.
At the TRORC, he works with the towns of Barnard, Bradford, Norwich, Sharon, Strafford, Thetford, and Woodstock on projects which includes energy planning as well as the implementation of sustainable energy projects.
Transportation is a major source of energy use, and as such, is an integral piece of comprehensive energy planning. 34% of Vermont's energy use comes from transportation, which is primarily (95%) derived from fossil fuels. Because of this, transportation is Vermont's largest contributor to our greenhouse gas emissions (GHGs) at 39%. When planning for renewable energy production, the effects on, and impact of transportation on energy usage must be part of the planning process.
Interview questions and answers have been edited for brevity and clarity.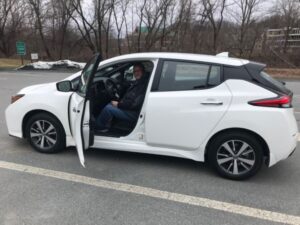 What is an example of a transportation project or projects that a participating town has undertaken to reduce energy use, GHGs, and move to renewable energy?
While working for the town of Hartford in 2018, I helped them purchase an electric vehicle for their administration offices. The purchase of the EV was part of their overall climate goals, and they also wanted it to serve as a model for other departments to replace their gas-powered vehicles with EVs, which the fire department later did. There was a lot of support for the project from the beginning.
There were several steps to the project, which included identifying an appropriate vehicle, making the recommendation to the town selectboard, working with Green Mountain Power to get a charging station at Town Hall, overseeing the EV infrastructure installation, and working with the EV leasing company, as well as helping the selectboard understand the leasing agreement. A town can't just go to a dealership to lease an EV, but instead has to go through a municipal leasing company, which can make the process more difficult to navigate. However, by having the leasing company own the EV for the first three years, the town is able to take advantage of a federal tax credit, and the savings are then passed on to the town.
With the help of a state grant, other EV charging stations were installed in downtown White River Junction, which get a lot of use. The stations are centrally located near many restaurants and other shopping and amenities, so they're convenient for people to access and use.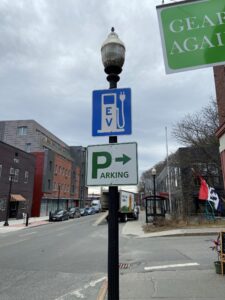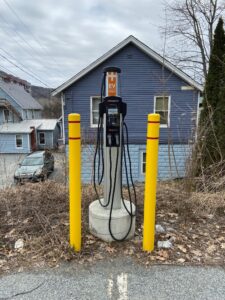 What are some other transportation related projects that you've been a part of?
I'm really excited about a Tesla police car demonstration that's coming up. The Richmond police chief, Kyle Kapitanski, will be hosting the demonstration, and police chiefs from Thetford, Bradford, and Woodstock will be attending to check out the car. These types of demonstrations are really important so that people are able to see and experience new electric vehicle technology in person and talk with someone in the same field as them, who better understands from a first-hand perspective their concerns and what they want out of a vehicle like this. It means so much more coming from their direct peers than hearing about it from an energy committee. I'm really excited that the Richmond police chief is willing to drive his department's vehicle down to do this for us, and I'm hopeful that the demonstration will result in one of our police departments being able to purchase one soon.
How does your work consider equity and environmental justice?
The first year and half that I was at TRORC, I was really focused on municipal infrastructure, where improvements in public buildings do benefit residents, but it isn't a direct equity advancement. However, it's something that we're paying more attention to now, and the steering committee is putting together a climate action plan for member towns, and through that, we'll be able to expand our work from municipal infrastructure to working with residents and businesses in ways that are equitable.
There are two potential community solar projects in our region, which if successful, will benefit income-qualified residents through discounted electricity rates. Hopefully, these projects will just be the starting point as we seek to lower energy burden and greenhouse gas emissions in our towns.
How does the work of TRORC address the climate crisis?
Everyone and every town has to do their part to reduce their emissions. Every building and vehicle needs to run on something other than fossil fuels. Towns are taking the lead in participating in the program and serving as examples for other towns around the state to do the same, which will help increase the collective impact of measures to reduce greenhouse gas emissions.
March 2022
Strategic Commuter Options to Reduce GHG Emissions – CATMA
By Jessica Poulin – Outreach Intern
Sandy Thibault, Executive Director, and Katie Martin, Program and Marketing Manager at CATMA were interviewed for this article.
Personal vehicles are by far the most widely used mode of travel in Vermont. Over 90% of commuter trips (Vermont Transportation Energy Profile 2021) occur in single-occupancy vehicles. There are a slew of negative consequences to this amount of vehicle use, including increased land use pressure from the development of roadways and parking lots, greenhouse gas emissions and the subsequent impacts on human and environmental health. Further, there is a high cost to individuals who own and operate a vehicle, with the annual average in Vermont being $9,991, although that cost for some rural areas exceeds $11,387 (AFLEET).
The rural nature of Vermont contributes heavily to the 39.1% greenhouse gas emissions coming from our transportation sector, due in part to the use of single occupancy internal-combustion vehicles (93.7%). It's important that strategies and solutions are developed and acted upon to reduce Vermonters' use of single-occupancy vehicles, while providing options that are efficient, convenient, equitable, and cost-effective for people to use.
One powerful strategy that can help Vermont transform our transportation system and reach our climate goals is Transportation Demand Management (TDM). The Chittenden Area Transportation Management Association (CATMA) is a non-profit member organization celebrating 30 years of operation in Chittenden County. They provide TDM services to over 90 area businesses, municipalities, and other members who are interested in making smarter and cost-effective decisions that reduce on-site parking demand and the amount of single-occupancy commuting vehicles, while achieving sustainable development and environmental goals. Sandy Thibault, CATMA's Executive Director, says that she is very proud of the services that CATMA's passionate staff provides to member organizations and their employees, and of their work to expand services in equitable ways.
In April, CATMA celebrates 30 years of providing TDM services to Chittenden County institutions. The organization started in 1992 as a way for Champlain College, the University of Vermont Medical Center and the University of Vermont to develop and manage transportation and parking programs aimed at reducing traffic, parking issues, and emissions. Since then, CATMA has grown to 4 full-time staff members, and increased its Board of Directors to better represent CATMA as a regional organization and tailor their services to member needs.
One of the challenges that CATMA faces is that while many organizations are supportive of programs encouraging employees to use other modes of transportation, such as public transit, carpooling, or active transportation, reducing on-site parking is a tough sell. Employers typically view access to parking spaces for every employee as a benefit. One service CATMA provides employers to counterattack this is an analysis of the cost of maintaining a parking lot. They also tailor employee incentives for other transportation options to each organization's specific needs.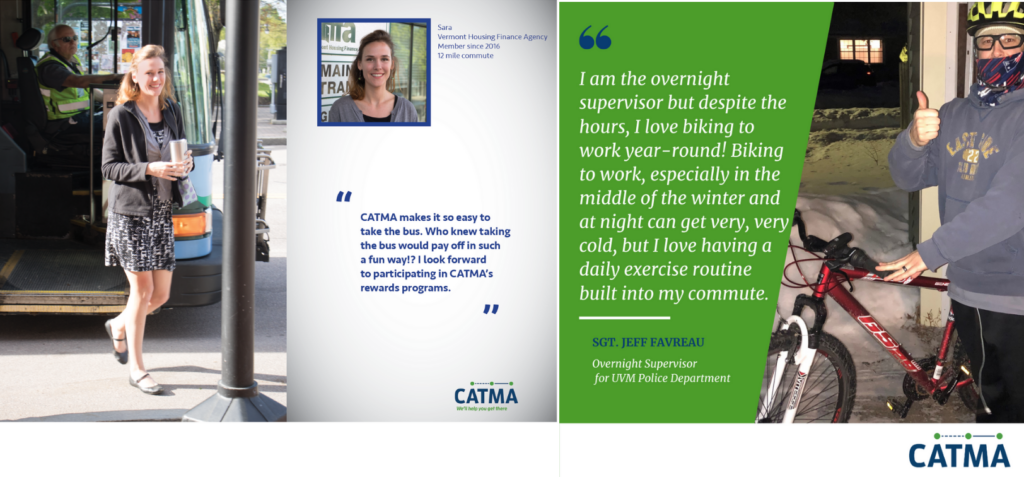 CATMA offers employees of member organizations several resources and benefits to make alternative transportation options more accessible, affordable, and attractive to use. Included are a bike/walk rewards program, where employees log their daily commute, and are rewarded with a gift card to a handful of local businesses if they walk 24 days in a 60-day period. For every day a commute is logged, participants are entered into a quarterly prize drawing. Participants also receive discounts on CarShare Vermont, Bikeshare, and bus passes. Other services offered included off-site parking, a guaranteed ride home from work, and carpool and vanpool services. In addition, CATMA offers resources on trip planning and how to commute safely during COVID-19.
CATMA is working to make their TDM services as well as commuter travel options more accessible for all employees of member organizations. They are currently updating their website and outreach materials to increase accessibility and connect with workers who are non-native English speakers. By partnering with organizations such as United Way, they are translating their website and print materials into other languages to increase access to their resources and benefits. CATMA is also strengthening in-person outreach events to connect with employees who may not have access to either a cellphone or a computer.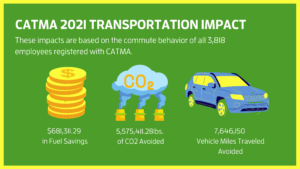 In their 2021 annual survey, CATMA added questions to address transportation inequities at workplaces and employees' transportation challenges and needs. CATMA is currently building the resources to expand its services to more manufacturing, retail, restaurant, hospitality and other sectors, whose workers are currently underserved by available transportation options. For example, they are working with the Town of Essex on the transportation challenges to the Saxon Hill District – where manufacturing workers lack adequate transit options that coordinate with their shift hours. This makes it difficult to recruit employees for second and third-shift work. Some options that CATMA is exploring include carpooling and micro-transit.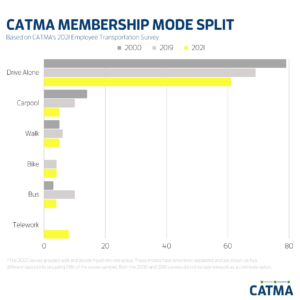 During COVID-19, employees' transportation travel patterns and participation in rewards programs dropped dramatically. More employees were teleworking, while essential workers used different modes of transportation than they previously used to get to work. Participation in all programs dropped to 25%. With more employees currently returning to the workplace and teleworking less, re-engagement with the programs and participation in the rewards program is up to 90%, which reflects pre-pandemic rates.
In 2021, CATMA received an MTI (Mobility and Transportation Innovations) Grant from VTrans to create a telework toolkit  that provides best practices and resources for employers and employees. They hope to continue conversations with member organizations about the benefits of teleworking to ensure that it remains a viable option.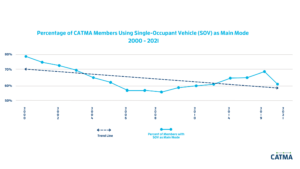 As Vermont continues to look for ways to reduce our emissions from the transportation sector, the TDM services that CATMA offers are an important part of the solution. TDM reduces reliance on single-occupant fossil-fuel-combustion vehicles, increases access to multi-modal transportation options and encourages sustainable development patterns.
February 2022
A Path to Bike & Pedestrian Advocacy: Moving through the Community Without a Car – Local Motion
By Jessica Poulin – VTCCC Outreach Intern
Eliana Fox, a former Vermont Clean Cities Intern, is the Community Engagement Program Coordinator at Local Motion.
Interview answers have been edited for brevity and clarity.
Can you give me a little bit of background about yourself?
I'm from Oneonta, New York, near Cooperstown, which houses the National Baseball Hall of Fame.
I graduated from UVM in 2019 with a degree in geography and a minor in religion. Geography is a wonderful way to see how humans are connected to the environment instead of separate from it. This is true whether you're using a geographical lens in a more scientific sense to study climate and topography, or using geography in a more anthropological sense to study how we are connected to, affected by, and affect place.
What was your pathway to your position at Local Motion?
My internships and research positions at UVM led me both to biking and ultimately to Local Motion.
I stayed in Burlington the summer after my sophomore year. Because I didn't have a car, I bought my first bike and used it as my primary mode of transportation. That summer, I conducted research on Vermont's bike history with Luis Vivanco, a Professor of Anthropology at UVM. As I was discovering biking as transportation for myself, I was learning about how people and the bicycle evolved in Vermont, how bicyclists advocated for the state's earliest transportation infrastructure, who historically was riding bikes, and all kinds of other biking history related things. All this got me excited about biking.
The following fall, I studied abroad in Brno, which is this beautiful city in the Czech Republic, which is famous for its robust and amazing public transportation system. Being able to easily get around by train, tram, and bus, convinced me when I came back to UVM that I never wanted to own a car again. It's so freeing and amazing to be able to move through the world not having to rely on a 3,000-pound polluting machine!
My senior year, I interned with Abby Bleything at UVM's  Transportation and Parking Department. We worked on campus programs, like the bike share and free transit passes. Once I graduated, I stayed on part-time, and began working as Vermont Clean Cities' intern, doing similar work, but focused on alternative fuels, EV charging, and equipment demos. In September of 2020, I began working for UVM's Transportation Research Center on two research projects, one on best practices for bicycle data collection, and the other on active transportation planning in Chittenden County.
These experiences gave me a comprehensive understanding of Vermont's sustainable transportation landscape. Even though Local Motion's focus is on biking and walking, understanding how  active transportation plays a part in Vermont's broader transportation system has been invaluable.
How long have you been at Local Motion and what does your role encompass?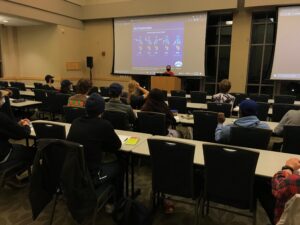 I came to Local Motion in May 2021 and am the Community Engagement Program Coordinator. I lead several of Local Motion's outreach, encouragement and education programs, such as our E-Bike Lending Libraries and Everyday Bicycling Workshops Our workshops provide education on  everyday bicycle commuting, winter biking, and bike maintenance. We also  do workshops with Driver's Ed students to teach them  how to safely interact with vulnerable road users; I really enjoy those Driver's Ed classes. Our encouragement programs include things like   the Vermont Bike/Walk Challenge and other events, where people are encouraged and rewarded for biking and walking for transportation.
What is an interesting part of your job that you didn't expect?
I really value the small moments of connection made with people who come out of our programs feeling safer and more confident in their abilities to bike and walk.
Over the summer I worked with AARP to put on a biking series for older adults and one of the participants sent me a really kind thank you email because the series gave them more confidence in their ability to bike. A parent in South Hero also sent me a really nice thank you after I sent them bike lights so that kids in their community could safely bike to and from school.
On the flipside, what are some of the challenges of your job?
Local Motion is a statewide agency working with many partners, in diverse communities, with different transportation needs and challenges. Working with organizations with different resource levels can be a challenging puzzle to solve, but it's rewarding. My experience at Vermont Clean Cities, where we also worked across the state with diverse stakeholders was good preparation for this.
How do you/Local Motion make a positive impact on your community? And how does this work further equitable transportation options?
For our Traveling E-bike Lending Library (T-ELL), we partner with organizations such as town energy committees and libraries across the state who host two of our e-bikes for 5-6 weeks at a time during the summer. This lending library gives people the opportunity to test the e-bikes for a few days and experience how e-bikes can work for their daily transportation needs. This is important for all participants, but especially for people in rural Vermont who may live several towns away from the nearest bike shop and other destinations.
Participants report feeling empowered by e-bikes, which can easily handle super hilly areas, and give them the ability to travel further distances to access more destinations than conventional bicycles. In 2019, 17% of people who participated in the e-bike lending library program, purchased an e-bike or a conversion kit within 12 months.
We found that communities got really excited about the e-bikes and wanted to continue the lending program. Last summer, through a grant from VTrans, we helped set up permanent satellite e-bike lending libraries in previous T-ELL host towns, such as Brattleboro, Rutland, and Middlebury.
Our Burlington e-bike library is based out of our office, and we have 5-6 bikes that can be loaned for 5-6 days at a time to Burlington and Chittenden County residents.
E-bikes can be quite expensive, and that cost can be a barrier for many folks. Does Local Motion offer any support for purchasing?
Most Vermont utilities offer purchase incentives for e-bikes, and we help to educate folks about what incentives are available. In upcoming months, Replace Your Ride will have an e-bike purchase incentive for eligible Vermont residents. Some credit unions have low or no interest loans available for the purchase of e-bikes. VBike, a Brattleboro-based non-profit, also provides free consultations to help individuals and families find an e-bike that best suits their transportation needs.
How does the work of Local Motion fit into the climate crisis?
We recognize that transportation is the biggest source of emissions in Vermont, and across the country. Our work helps people make that switch from driving every day to biking and walking as forms of transportation. This switch isn't easy, and our transportation system cannot be changed overnight. One of the biggest barriers for people to bike and walk easily is infrastructure, which is where our "Complete Streets" program comes into play. This program helps Vermont's cities, towns, and villages advocate for walking and biking infrastructure that is best suited for their individual community. Not everyone is able to bike or walk, so accessible streets have to be part of the solution.
The transportation ecosystem is multi-faceted; we are just a piece of puzzle, which includes things like micromobility, microtransit, car sharing and public transit, that all must work together to create a sustainable transportation system that reduces emissions and improves people's lives.