We are proud to highlight the work that our stakeholders undertake to make progress towards achieving Vermont's clean transportation energy future by reducing petroleum usage in equitable and just ways.
Every month, we highlight one of our stakeholder's efforts. Let us know if you'd like to be included in an upcoming Stakeholder Spotlight!
Contact Us
April 2022
Energy Planning for the Future: Two Rivers-Ottauquechee Regional Planning Commission
By Jessica Poulin – VTCCC Outreach Intern
Regional planning commissions help towns in their service areas clarify and implement current and future needs, and connect them to the state and federal resources to do. Their expertise includes issues such as transportation, energy generation and use, land use and growth, and economic development, with the goals of increasing community and regional vitality and quality of life.
This month, I spoke with Geoff Martin who has served as an energy coordinator for the town of Hartford and is currently an Intermunicipal Regional Energy Coordinator at the Two Rivers-Ottauquechee Regional Planning Commission. Currently, he works with municipalities to lessen energy use, lower greenhouse gas emissions, and transition to the use of renewable energy at the local level.
Geoff gained valuable experience working in the energy sector as a home energy advisor in MA. He then earned his graduate degree in environmental science from Emory University, where his thesis focused on the effectiveness of climate and energy policies at the state level to reduce carbon emissions. Upon graduating, he spent three years working as an energy coordinator for the town of Hartford, VT.
At the TRORC, he works with the towns of Barnard, Bradford, Norwich, Sharon, Strafford, Thetford, and Woodstock on projects which includes energy planning as well as the implementation of sustainable energy projects.
Transportation is a major source of energy use, and as such, is an integral piece of comprehensive energy planning. 34% of Vermont's energy use comes from transportation, which is primarily (95%) derived from fossil fuels. Because of this, transportation is Vermont's largest contributor to our greenhouse gas emissions (GHGs) at 39%. When planning for renewable energy production, the effects on, and impact of transportation on energy usage must be part of the planning process.
Interview questions and answers have been edited for brevity and clarity.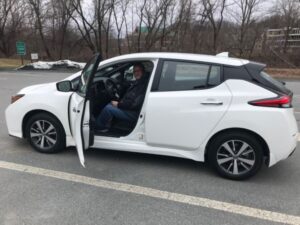 What is an example of a transportation project or projects that a participating town has undertaken to reduce energy use, GHGs, and move to renewable energy?
While working for the town of Hartford in 2018, I helped them purchase an electric vehicle for their administration offices. The purchase of the EV was part of their overall climate goals, and they also wanted it to serve as a model for other departments to replace their gas-powered vehicles with EVs, which the fire department later did. There was a lot of support for the project from the beginning.
There were several steps to the project, which included identifying an appropriate vehicle, making the recommendation to the town selectboard, working with Green Mountain Power to get a charging station at Town Hall, overseeing the EV infrastructure installation, and working with the EV leasing company, as well as helping the selectboard understand the leasing agreement. A town can't just go to a dealership to lease an EV, but instead has to go through a municipal leasing company, which can make the process more difficult to navigate. However, by having the leasing company own the EV for the first three years, the town is able to take advantage of a federal tax credit, and the savings are then passed on to the town.
With the help of a state grant, other EV charging stations were installed in downtown White River Junction, which get a lot of use. The stations are centrally located near many restaurants and other shopping and amenities, so they're convenient for people to access and use.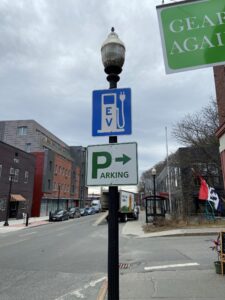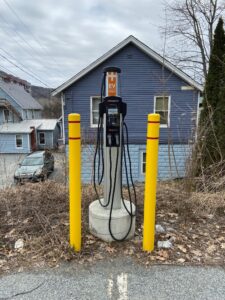 What are some other transportation related projects that you've been a part of?
I'm really excited about a Tesla police car demonstration that's coming up. The Richmond police chief, Kyle Kapitanski, will be hosting the demonstration, and police chiefs from Thetford, Bradford, and Woodstock will be attending to check out the car. These types of demonstrations are really important so that people are able to see and experience new electric vehicle technology in person and talk with someone in the same field as them, who better understands from a first-hand perspective their concerns and what they want out of a vehicle like this. It means so much more coming from their direct peers than hearing about it from an energy committee. I'm really excited that the Richmond police chief is willing to drive his department's vehicle down to do this for us, and I'm hopeful that the demonstration will result in one of our police departments being able to purchase one soon.
How does your work consider equity and environmental justice?
The first year and half that I was at TRORC, I was really focused on municipal infrastructure, where improvements in public buildings do benefit residents, but it isn't a direct equity advancement. However, it's something that we're paying more attention to now, and the steering committee is putting together a climate action plan for member towns, and through that, we'll be able to expand our work from municipal infrastructure to working with residents and businesses in ways that are equitable.
There are two potential community solar projects in our region, which if successful, will benefit income-qualified residents through discounted electricity rates. Hopefully, these projects will just be the starting point as we seek to lower energy burden and greenhouse gas emissions in our towns.
How does the work of TRORC address the climate crisis?
Everyone and every town has to do their part to reduce their emissions. Every building and vehicle needs to run on something other than fossil fuels. Towns are taking the lead in participating in the program and serving as examples for other towns around the state to do the same, which will help increase the collective impact of measures to reduce greenhouse gas emissions.
March 2022
Strategic Commuter Options to Reduce GHG Emissions – CATMA
By Jessica Poulin – Outreach Intern
Sandy Thibault, Executive Director, and Katie Martin, Program and Marketing Manager at CATMA were interviewed for this article.
Personal vehicles are by far the most widely used mode of travel in Vermont. Over 90% of commuter trips (Vermont Transportation Energy Profile 2021) occur in single-occupancy vehicles. There are a slew of negative consequences to this amount of vehicle use, including increased land use pressure from the development of roadways and parking lots, greenhouse gas emissions and the subsequent impacts on human and environmental health. Further, there is a high cost to individuals who own and operate a vehicle, with the annual average in Vermont being $9,991, although that cost for some rural areas exceeds $11,387 (AFLEET).
The rural nature of Vermont contributes heavily to the 39.1% greenhouse gas emissions coming from our transportation sector, due in part to the use of single occupancy internal-combustion vehicles (93.7%). It's important that strategies and solutions are developed and acted upon to reduce Vermonters' use of single-occupancy vehicles, while providing options that are efficient, convenient, equitable, and cost-effective for people to use.
One powerful strategy that can help Vermont transform our transportation system and reach our climate goals is Transportation Demand Management (TDM). The Chittenden Area Transportation Management Association (CATMA) is a non-profit member organization celebrating 30 years of operation in Chittenden County. They provide TDM services to over 90 area businesses, municipalities, and other members who are interested in making smarter and cost-effective decisions that reduce on-site parking demand and the amount of single-occupancy commuting vehicles, while achieving sustainable development and environmental goals. Sandy Thibault, CATMA's Executive Director, says that she is very proud of the services that CATMA's passionate staff provides to member organizations and their employees, and of their work to expand services in equitable ways.
In April, CATMA celebrates 30 years of providing TDM services to Chittenden County institutions. The organization started in 1992 as a way for Champlain College, the University of Vermont Medical Center and the University of Vermont to develop and manage transportation and parking programs aimed at reducing traffic, parking issues, and emissions. Since then, CATMA has grown to 4 full-time staff members, and increased its Board of Directors to better represent CATMA as a regional organization and tailor their services to member needs.
One of the challenges that CATMA faces is that while many organizations are supportive of programs encouraging employees to use other modes of transportation, such as public transit, carpooling, or active transportation, reducing on-site parking is a tough sell. Employers typically view access to parking spaces for every employee as a benefit. One service CATMA provides employers to counterattack this is an analysis of the cost of maintaining a parking lot. They also tailor employee incentives for other transportation options to each organization's specific needs.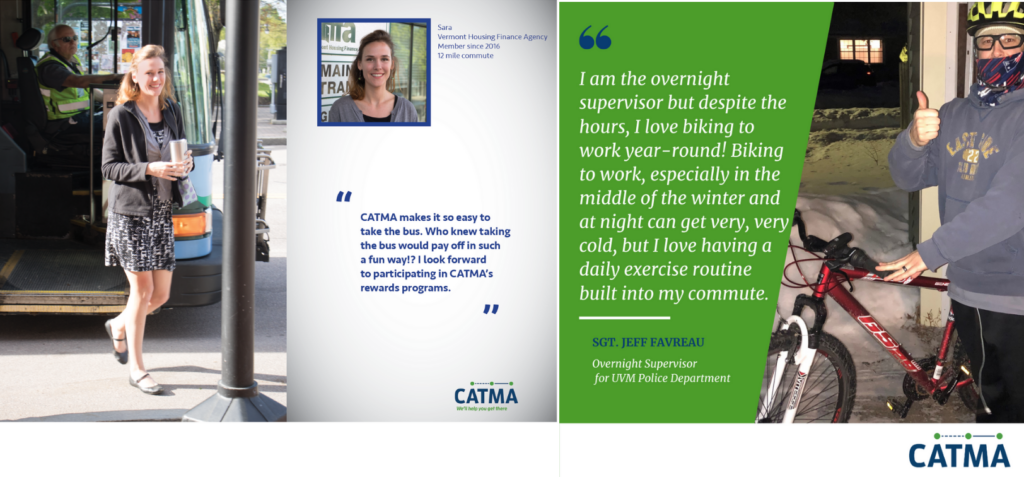 CATMA offers employees of member organizations several resources and benefits to make alternative transportation options more accessible, affordable, and attractive to use. Included are a bike/walk rewards program, where employees log their daily commute, and are rewarded with a gift card to a handful of local businesses if they walk 24 days in a 60-day period. For every day a commute is logged, participants are entered into a quarterly prize drawing. Participants also receive discounts on CarShare Vermont, Bikeshare, and bus passes. Other services offered included off-site parking, a guaranteed ride home from work, and carpool and vanpool services. In addition, CATMA offers resources on trip planning and how to commute safely during COVID-19.
CATMA is working to make their TDM services as well as commuter travel options more accessible for all employees of member organizations. They are currently updating their website and outreach materials to increase accessibility and connect with workers who are non-native English speakers. By partnering with organizations such as United Way, they are translating their website and print materials into other languages to increase access to their resources and benefits. CATMA is also strengthening in-person outreach events to connect with employees who may not have access to either a cellphone or a computer.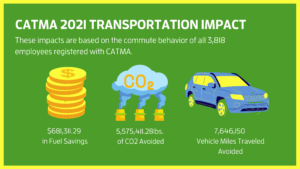 In their 2021 annual survey, CATMA added questions to address transportation inequities at workplaces and employees' transportation challenges and needs. CATMA is currently building the resources to expand its services to more manufacturing, retail, restaurant, hospitality and other sectors, whose workers are currently underserved by available transportation options. For example, they are working with the Town of Essex on the transportation challenges to the Saxon Hill District – where manufacturing workers lack adequate transit options that coordinate with their shift hours. This makes it difficult to recruit employees for second and third-shift work. Some options that CATMA is exploring include carpooling and micro-transit.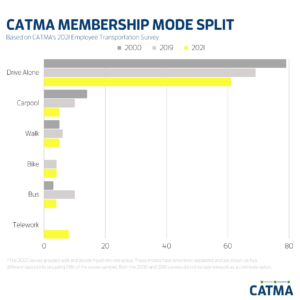 During COVID-19, employees' transportation travel patterns and participation in rewards programs dropped dramatically. More employees were teleworking, while essential workers used different modes of transportation than they previously used to get to work. Participation in all programs dropped to 25%. With more employees currently returning to the workplace and teleworking less, re-engagement with the programs and participation in the rewards program is up to 90%, which reflects pre-pandemic rates.
In 2021, CATMA received an MTI (Mobility and Transportation Innovations) Grant from VTrans to create a telework toolkit that provides best practices and resources for employers and employees. They hope to continue conversations with member organizations about the benefits of teleworking to ensure that it remains a viable option.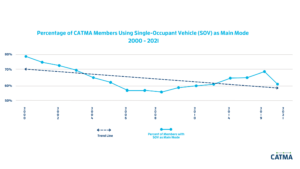 As Vermont continues to look for ways to reduce our emissions from the transportation sector, the TDM services that CATMA offers are an important part of the solution. TDM reduces reliance on single-occupant fossil-fuel-combustion vehicles, increases access to multi-modal transportation options and encourages sustainable development patterns.
February 2022
A Path to Bike & Pedestrian Advocacy: Moving through the Community Without a Car – Local Motion
By Jessica Poulin – VTCCC Outreach Intern
Eliana Fox, a former Vermont Clean Cities Intern, is the Community Engagement Program Coordinator at Local Motion.
Interview answers have been edited for brevity and clarity.
Can you give me a little bit of background about yourself?
I'm from Oneonta, New York, near Cooperstown, which houses the National Baseball Hall of Fame.
I graduated from UVM in 2019 with a degree in geography and a minor in religion. Geography is a wonderful way to see how humans are connected to the environment instead of separate from it. This is true whether you're using a geographical lens in a more scientific sense to study climate and topography, or using geography in a more anthropological sense to study how we are connected to, affected by, and affect place.
What was your pathway to your position at Local Motion?
My internships and research positions at UVM led me both to biking and ultimately to Local Motion.
I stayed in Burlington the summer after my sophomore year. Because I didn't have a car, I bought my first bike and used it as my primary mode of transportation. That summer, I conducted research on Vermont's bike history with Luis Vivanco, a Professor of Anthropology at UVM. As I was discovering biking as transportation for myself, I was learning about how people and the bicycle evolved in Vermont, how bicyclists advocated for the state's earliest transportation infrastructure, who historically was riding bikes, and all kinds of other biking history related things. All this got me excited about biking.
The following fall, I studied abroad in Brno, which is this beautiful city in the Czech Republic, which is famous for its robust and amazing public transportation system. Being able to easily get around by train, tram, and bus, convinced me when I came back to UVM that I never wanted to own a car again. It's so freeing and amazing to be able to move through the world not having to rely on a 3,000-pound polluting machine!
My senior year, I interned with Abby Bleything at UVM's Transportation and Parking Department. We worked on campus programs, like the bike share and free transit passes. Once I graduated, I stayed on part-time, and began working as Vermont Clean Cities' intern, doing similar work, but focused on alternative fuels, EV charging, and equipment demos. In September of 2020, I began working for UVM's Transportation Research Center on two research projects, one on best practices for bicycle data collection, and the other on active transportation planning in Chittenden County.
These experiences gave me a comprehensive understanding of Vermont's sustainable transportation landscape. Even though Local Motion's focus is on biking and walking, understanding how active transportation plays a part in Vermont's broader transportation system has been invaluable.
How long have you been at Local Motion and what does your role encompass?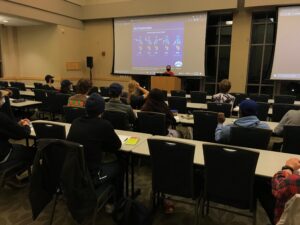 I came to Local Motion in May 2021 and am the Community Engagement Program Coordinator. I lead several of Local Motion's outreach, encouragement and education programs, such as our E-Bike Lending Libraries and Everyday Bicycling Workshops Our workshops provide education on everyday bicycle commuting, winter biking, and bike maintenance. We also do workshops with Driver's Ed students to teach them how to safely interact with vulnerable road users; I really enjoy those Driver's Ed classes. Our encouragement programs include things like the Vermont Bike/Walk Challenge and other events, where people are encouraged and rewarded for biking and walking for transportation.
What is an interesting part of your job that you didn't expect?
I really value the small moments of connection made with people who come out of our programs feeling safer and more confident in their abilities to bike and walk.
Over the summer I worked with AARP to put on a biking series for older adults and one of the participants sent me a really kind thank you email because the series gave them more confidence in their ability to bike. A parent in South Hero also sent me a really nice thank you after I sent them bike lights so that kids in their community could safely bike to and from school.
On the flipside, what are some of the challenges of your job?
Local Motion is a statewide agency working with many partners, in diverse communities, with different transportation needs and challenges. Working with organizations with different resource levels can be a challenging puzzle to solve, but it's rewarding. My experience at Vermont Clean Cities, where we also worked across the state with diverse stakeholders was good preparation for this.
How do you/Local Motion make a positive impact on your community? And how does this work further equitable transportation options?
For our Traveling E-bike Lending Library (T-ELL), we partner with organizations such as town energy committees and libraries across the state who host two of our e-bikes for 5-6 weeks at a time during the summer. This lending library gives people the opportunity to test the e-bikes for a few days and experience how e-bikes can work for their daily transportation needs. This is important for all participants, but especially for people in rural Vermont who may live several towns away from the nearest bike shop and other destinations.
Participants report feeling empowered by e-bikes, which can easily handle super hilly areas, and give them the ability to travel further distances to access more destinations than conventional bicycles. In 2019, 17% of people who participated in the e-bike lending library program, purchased an e-bike or a conversion kit within 12 months.
We found that communities got really excited about the e-bikes and wanted to continue the lending program. Last summer, through a grant from VTrans, we helped set up permanent satellite e-bike lending libraries in previous T-ELL host towns, such as Brattleboro, Rutland, and Middlebury.
Our Burlington e-bike library is based out of our office, and we have 5-6 bikes that can be loaned for 5-6 days at a time to Burlington and Chittenden County residents.
E-bikes can be quite expensive, and that cost can be a barrier for many folks. Does Local Motion offer any support for purchasing?
Most Vermont utilities offer purchase incentives for e-bikes, and we help to educate folks about what incentives are available. In upcoming months, Replace Your Ride will have an e-bike purchase incentive for eligible Vermont residents. Some credit unions have low or no interest loans available for the purchase of e-bikes. VBike, a Brattleboro-based non-profit, also provides free consultations to help individuals and families find an e-bike that best suits their transportation needs.
How does the work of Local Motion fit into the climate crisis?
We recognize that transportation is the biggest source of emissions in Vermont, and across the country. Our work helps people make that switch from driving every day to biking and walking as forms of transportation. This switch isn't easy, and our transportation system cannot be changed overnight. One of the biggest barriers for people to bike and walk easily is infrastructure, which is where our "Complete Streets" program comes into play. This program helps Vermont's cities, towns, and villages advocate for walking and biking infrastructure that is best suited for their individual community. Not everyone is able to bike or walk, so accessible streets have to be part of the solution.
The transportation ecosystem is multi-faceted; we are just a piece of puzzle, which includes things like micromobility, microtransit, car sharing and public transit, that all must work together to create a sustainable transportation system that reduces emissions and improves people's lives.