Vermont Clean Cities recognizes that access to safe, reliable, clean transportation is not a reality for many. In our work, we seek to center equity concerns in order to help meet the transportation needs of underserved communities.
Resources found here:
Access to Outdoor Recreation by Public Transportation in Vermont
Small Towns, Healthy Places Podcast
Burlington Transportation Resources
Food Pantry Access by Bus in Vermont StoryMap
Equity Framework
Access to Outdoor Recreation by Public Transportation in Vermont
Hanna Hartman, August 15, 2023
Spending time in nature in Vermont is often associated with remote forest trails, long car rides, and the rush to get there before the parking lot fills up. This mapping resource was created to show that it is possible to access nature and spaces of recreation in Vermont without a personal vehicle. I hope to help people explore their local trails and parks, as well as new adventures statewide. Access to nature is important because of the physical and mental benefits, as well as the connections to our local environments. This project was created during a Program Outreach internship at Vermont Clean Cities Coalition, funded by the Argonne National Laboratory.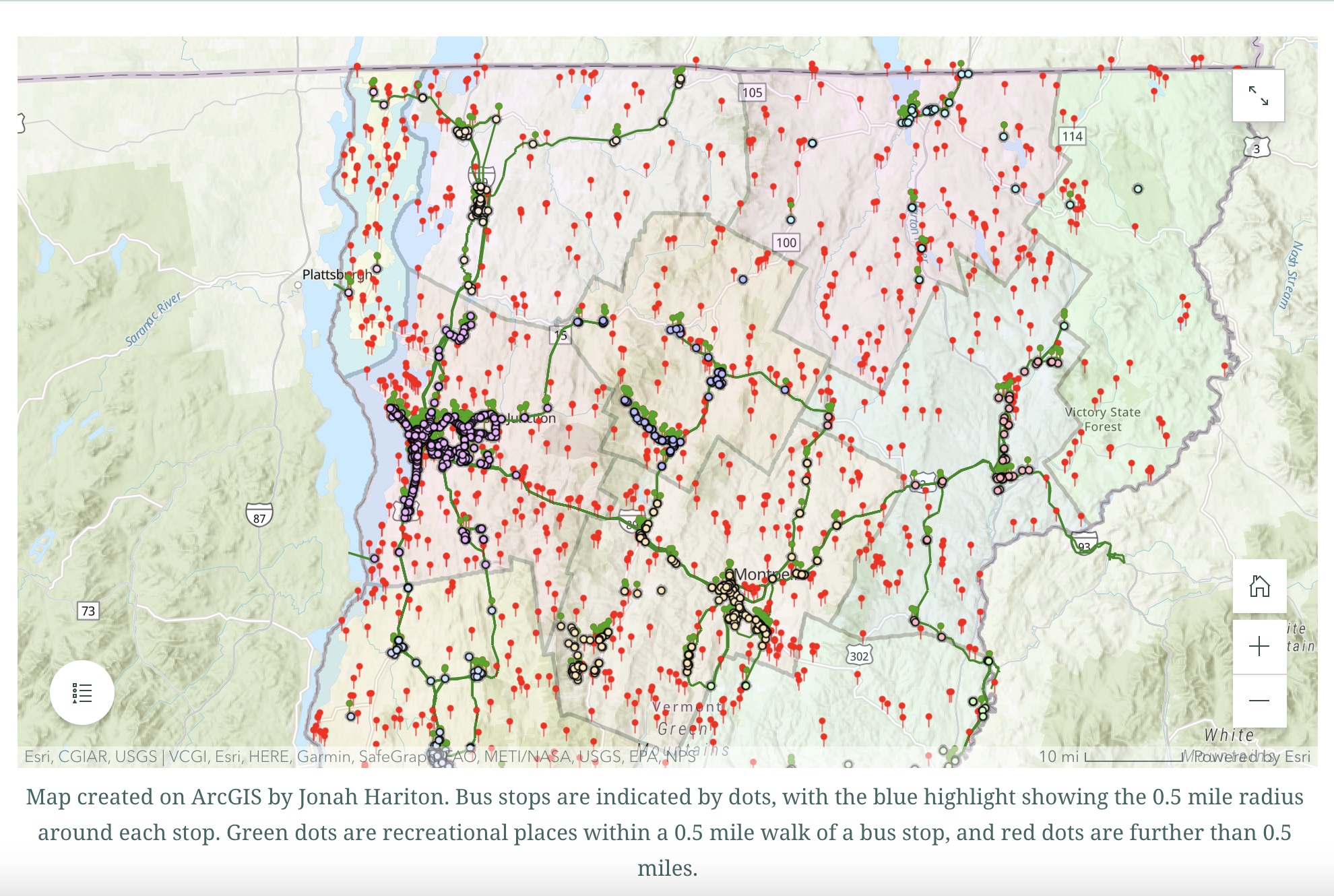 Small Towns, Healthy Places from Vermont Healthy Communities
Healthy communities require safe streets and sidewalks; inclusive gathering places and green spaces for everyone to enjoy; and easy access to medical services and fresh food. If you live in a rural town in America, these things can be hard to come by. Join Suzanne Kelley and Richard Amore in Small Towns, Healthy Places, the podcast that explores the intersection between health equity and community design in the State of Vermont. They'll interview state partners, local leaders, and community members about creating vibrant places that support health and wellness. If you're passionate about public health, improving the built environment, and placemaking, this podcast is for you.
Find the podcast episodes here. 
Transportation Resources (1)

Mapping Access to Food Pantries by Public Bus in Vermont
Cate MacDonald, May 7, 2023
High poverty rates and rurality make sufficient food hard to access, especially for individuals who do not own a reliable vehicle or do not have access to public transportation. This project focuses on transportation barriers to food pantries in Vermont. It analyzes the percentage of poverty, the distribution of food pantries, and the distribution of bus stops in each of Vermont's 14 counties. This project suggests that many food pantries in Vermont are inaccessible by public bus as they fall outside of a half-mile radius, or about a 10-minute walk from a bus stop.
Cate Food Access Bus

Read more about this project created by former VT Clean Cities Intern, Cate MacDonald. 
We have been developing an equity framework for our organization, as well as a toolkit of resources. This is a living document and will evolve and be updated frequently. We welcome stakeholder input.
Please contact us at vtccc@uvm.edu with questions, concerns, and ideas.
Priority Area 

 

Considerations

 

Questions to Ask

 

Strategies

 

Prioritize investments in clean, efficient, accessible, affordable transportation options that connect housing, jobs, local services and social opportunities

 

 

Cost

 

Capacity to carry out work

 

Where are transportation needs being left unmet?

 

Where is there opportunity to better connect people w/ the places and services they need?

 

Adjust funding decision processes to consider needs of underrepresented communities

 

 

Collaborate and coordinate across transportation agencies and organizations, community action organizations, businesses, state and local governments, and academic institutions to advance transportation equity

 

Look for opportunities for inclusion

 

Build solid relationships built on trust

 

Every community/end-user has different needs.

 

Who are we currently working with?

 

Who do we need to be working with?

 

Are we appropriate messengers for this work? Who is?

 

Build relationships w/ local organizations who are already working w/ underrepresented communities who can help establish trusted "champions"

 

Strategies are not "cut and paste" from one community/end-user to the next

 

Engage disadvantaged communities/end users to identify challenges/needs to inform solutions

 

Every community/end user is different & are not homogenous within themselves

 

This work takes time and continual effort




 

How is this project related to VTCCC's mission?

 

What is its end goal?

 

Who currently benefits from the status quo?

 

Who is currently being disadvantaged by the status quo?

 

What barriers to equitable transportation currently exist?

 

How will this project positively impact disadvantaged communities/end-users?

 

Identify project purpose

 

Identify project impact

 

Identify community/end-user priorities 

 

Look to community/end-user for their knowledge/experiences to inform solutions

 
Resources
Peer-reviewed Articles
Litman, T. (n.d.). Evaluating Transportation Equity. Victoria Transport Policy Institute . Retrieved from https://www.vtpi.org/equity.pdf.
White Papers/Agency Publications 
Fan, Y.; Guthrie, A.; Dort, L.; Baas, G. (2019) Advancing Transportation Equity: Research and Practice. Center for Transportation Studies at University of Minnesota and Minnesota Department of Transportation. https://www.dot.state.mn.us/planning/program/advancing-transportation-equity/pdf/CTS%2019-08.pdf 
Hangen, Eric. (2022, February 16) Clean Energy Project Development for Low-Income Communities. Center for Impact Finance, Carsey School of Public Policy – University of New Hampshire
Making Travel More Equitable for People with Disabilities. National Academies of Sciences, Engineering and Medicine
This is part of a TRB Blog series on equity. One part explores resources around socioeconomic equity. Another part highlights resources for improving inclusion and diversity in the transportation workforce. A fourth highlights equity in rural mobility. This part delves into resources around transportation accessibility for people with disabilities.
Webinars 
Abrash-Walton, A; Green, R. (2021) The Work within the Work: Expanding Environmental Justice and Civil Society through Climate Adaptation, Mitigation and Community Resilience. Antioch University New England: Climate Resiliency Center. https://www.communityresilience-center.org/webinars/the-work-within-the-work-expanding-environmental-justice-and-civic-society-through-climate-adaptation-mitigation-and-community-resilience/ 
(2020) Achieving Equity in Transportation. Los Angeles Department of Transportation. https://www.youtube.com/watch?v=oNBxvFYuNeE 
(2020) Caltrans Equity Workshop. UC Davis Institute of Transportation Studies. https://www.youtube.com/watch?v=ajddjJUsGjU 
Yeampierre, E. (2021). The Path to Environmental Justice is Local. Antioch University New England: Climate Resiliency Center. https://www.communityresilience-center.org/webinars/the-work-within-the-work-expanding-environmental-justice-and-civic-society-through-climate-adaptation-mitigation-and-community-resilience/ 
Smart Growth America's 2022 Equity Summit. Webinar topics include:
Land use and development
Transportation and thriving communities
Economic development
Organizations  
 Smart Growth America: Has a plethora of resources on smart growth that results in healthy, prosperous and resilient communities. There are a variety of case studies, fact sheets, guides, reports, toolkits, as well as webinars to pull from
News/Opinion Articles 
Cotton, E. (2021, November 7). UVM study: Vermont policies don't solve energy vulnerability. VTDigger. 
Denker, M. (2021, November 15) It's Time for Public Participation to Evolve With Transportation Planning. Planetizen. 
Kowalski, Kathiann M. (2022, January 28). Transition to electric transportation must elevate equity beyond EVs, advocates say. Energy News Network.
Sen, Basav (2022, January 27). How the U.S. Transportation System Fuels Inequality. Inequality.org
Toolkits 
U.S. Department of Transportation: Charging Forward: A Toolkit for Planning and Funding Rural Electric Mobility Infrastructure
U.S. Department of Housing and Urban Development: Citizen Participation & Equitable Engagement Toolkit
Podcasts
Mobility in Burlington. NetZero Energy Podcast – Burlington Electric Department