What is biodiesel?
Biodiesel is a renewable fuel that is predominantly domestically produced. It can be made from a variety of feedstocks including animal fats, algae, new and use vegetable oil, soybean oil, and restaurant grease.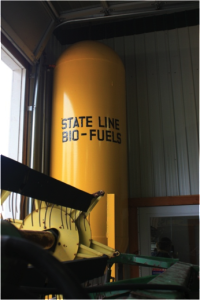 Biodiesel can be utilized in vehicles in either its pure form or as a blend with petroleum diesel. Pure biodiesel, 100% biodiesel fuel, is referred to as B100 while a blend of 20% biodiesel and 80% petroleum diesel is labeled as B20. B20 is the most common biodiesel blend in the United States; another common blend is B5.
Blends up to B20 may be used in any diesel engine manufactured after 1993 with little impact on performance. Most original equipment manufacturers (OEMs) approve the use of biofuel blends up to B5 in their vehicles without voiding parts or workmanship warranties. Please check your OEM's website or contact your dealer to determine which types of biofuels should or should not be used in your vehicle.
B20 and lower-level blends of biodiesel have not shown to have negative long-term effects on engines. Biodiesel has a higher lubricity than traditional petroleum diesel and thus can reduce the wear and tear on engines and, in some cases, extend oil change intervals.
What are the benefits of biodiesel?
While biodiesel has many similar characteristics to petroleum diesel, it burns much cleaner and is biodegradable and non-toxic, making it overall safer for environmental and human health. The burning of biodiesel emits lower levels of CO2 particulates and other polluting compounds in comparison to regular diesel fuel. Because it is both biodegradable and non-toxic, biodiesel will not contaminate soils and water sources, unlike diesel fuel.
Biodiesel in Cold Weather
New England's colder climate has been noted as a barrier to biodiesel use. However, biodiesel can be used in cold weather despite its tendency to gel up at low temperatures. The smaller the percentage of biodiesel in the blend being used, the better it performs in cold temperatures. Additionally, best practices exist to improve the functioning of biodiesel in cold temperatures:
Use high quality biodiesel fuel
Blend with kerosene
Blend with diesel that has been treated with cold weather additives
Use block and filter heaters to warm engine and fuel
Store your vehicles indoors
Use additives designed for use with biodiesel
VTCCC and Partner Resources
AFDC Alternative Fueling Station Locator: can help you find public biodiesel fueling stations. Currently, there are four public fueling stations in Vermont and four that provide biodiesel wholesale:

Public Fueling
Wholesale
To view a map of Vermont's Biodiesel Providers and Pumps CLICK HERE.
Vermont biofuel resources:
Advancing Biodiesel in New England: The key to sustaining and increasing biodiesel consumption in fleets is to identify and address the barriers of alternative fuel adoption. This document outlines twelve barriers and accompanying strategies designed to expand the use of biodiesel as a motor fuel in New England.

To view a list of 2016 & newer models of diesel vehicles CLICK HERE.
Below is a recording of a brown bag discussion held on April 10, 2015 with Black Bear Biodiesel's, Jim Malloy, on his new operation in Plainfield and how he hopes to expand biodiesel use in Vermont:
For more information about biodiesel, please visit: afdc.energy.gov/fuels/biodiesel.html